now accepting applications
Introducing, Zini!
Please carefully review the information below. If you feel like your family might be the perfect forever home for Zini, please submit an adoption application!
Age
5 years old [DOB: 09-21-2018]
Zini's Story
Zini came into SNAFU Rescue via a private party surrender.  Her owners could no longer properly care for her special needs and wanted her to receive much-needed attention and find a family best suited to take care of her needs. 
Zini is an active, sweet, fun-loving, inquisitive, laidback, and excitable Frenchie girl.  She adores playtime, naptime, a good game of chase all around the yard, nibbling on a bone, taking more naps cuddling her humans; she is a really pawfectly active and loving little girl!   Zini loves spending time outside especially when her humans are outside and engaged with the activity she is interested in. Outside time is time for ZIni to work her legs and continue to strengthen them.  This overall excitable girl is slow to warm up to new people and in new situations but after a few sniffs and surveying the scene, Zini will be off to the races running all around and accepting head scratches and attention.  She does have some anxious behavior especially around loud and abrupt noises and brand-new people.  Once comfortable, she will put on display her sweet and lovable side often requesting some couch time to snuggle and catch up on her favorite TV shows.  Zini is a handicapable French Bulldog.  She has IVDD (Intervertebral Disc Disease) which is a condition where the cushioning discs between the vertebrae of the spinal column bulge or burst into the spinal cord space and in Zini's case causing some weakness in her back end, some incontinence and extra care.  However, this condition absolutely does not stop Zini!!!  She can run/walk/jaunt all around the house finding any bone in sight to nibble on.  Zini has use of her legs and has made many great strides with therapy! She has a strong will to be the best Frenchie she can be and has overcome many of the struggles IVDD has thrown her way.  Zini was paralyzed initially, but with exercises, and an ongoing therapy regime she can fully walk again.  Her determination is admirable!  Zini is a strong-willed girl and is about the sweetest girl you can find.  She loves to be around her humans at all times and engages her furry friends in some playtime.  Zini loves attention, all attention especially when it comes from her human friends. She currently lives with several furry foster siblings.  She does extremely well with her foster siblings and enjoys their company; her temperament allows her to get along famously with her furry friends who are equal to her size and passive.  Zini loves all people; big or small but due to her slightly anxious behavior and her adversity to loud sounds we believe that she would be best around teenage children or older.  Zini first came into the rescue with a major UTI and in some big-time pain.  She did attempt to bite at her foster mom when she was placing her in the crate. Since her pain was managed, she started therapy and her UTI was being treated, Zini has never once acted out since.  We attribute this incident to the extreme pain Zini was in.  She would most certainly do well in a house with a fur buddy or equally as well as an only dog.  Zini truly enjoys being around all people and really soaks up all of the attention the people dish out.  As with all of our dogs, slow introductions to other dogs and children in the household are a must and she should always be supervised to make sure she and they are kept safe. 
Zini is considered incontinent.  She is not always aware when she needs to urinate and when excited she is prone to dribbles, therefore Zini wears a diaper when she is exploring the indoors.  She rarely has any fecal accidents while diapered since she is kept on a strict outdoor schedule and those movements are timed during her time outside.  Zini is crate-trained but has anxiety while in her crate.  She prefers the comfort of a playpen and sleeps quietly in her pen at night and when her family happens to be away from home.  While in her playpen, Zini is NOT diapered and can stay pretty dry all night as long as she is taken out immediately in the morning.  This will greatly assist so she does not develop a diaper rash or a UTI.  Due to her condition, Zini is prone to UTIs and needs to be taken outside a little more frequently than normal to allow her to completely empty her bladder.  She is on a cranberry supplement to help avoid further UTI issues (she will need to remain on this supplement in perpetuity).  Her diapers are checked and changed often to ensure she remains sanitary and clean; this diligent approach is required for her ongoing health.  In addition, Zini is on an anti-anxiety med that helps manage her anxiety. Zini should also remain on a joint supplement in perpetuity.  Lastly, Zini should never be walked or utilize a collar; a harness is required as pulling on her neck via a collar can cause undo pressure on her back. 
Medically, Zini is in good health.  She has been spayed, updated on vaccinations/dewormings, heartworm tested, microchipped, and has been given the okay to adopt by our veterinarian!   As mentioned Zini was paralyzed in her hind legs and is incontinent due to her spinal injury.   She had IVDD surgery and receives ongoing acupuncture, chiropractic treatments, and cold laser therapy treatments to improve her mobility, improve incontinence, and maximize her mobility (every 4-6 weeks).  She must continue therapy treatments so please research facilities in the area before applying.  Zini receives her care in Omaha at Five Elements Veterinary Alternatives. The time between appointments may decrease over time as Zini builds strength.  Zini has regained mobility and can walk with confidence  (she wasn't at all using her legs upon her arrival in rescue).  Her gate remains a bit wobbly but she moves with purpose and confidence!  She does best when on rough/carpeted surfaces.  She has difficulty with slipping on wood floors/wooden stairs.  Zini is unable to do stairs and stairs should be avoided at all costs, instead a pair of loving arms would be preferred to carry her up and down any amount of stairs. Zini does not have pain and is a very happy girl! We feel she would greatly benefit from ongoing at-home exercises so she can keep up the strength she has gained from therapy.  Zini must NOT be allowed to jump on/off of furniture EVER. Zini does have those pesky Frenchie allergies (seasonal and a poultry allergy) and is managed with a limited ingredient beef-based diet, a daily allergy pill, and cytopoint injections during high allergy months.  
Zini would do best in a ranch-style house with the least amount of stairs possible.  She gets around amazingly well on her back legs and would benefit from a fenced-in yard due to her love for the outdoors and her desire to run all around strengthening her back legs.  Zini will require a VERY patient and understanding family who understands that she will require extra daily care, and will need to wear diapers and have them changed often.  It's an adjustment and quickly becomes a routine. We also think she'd love a family willing to offer tons of attention, and one with the commitment and patience to properly care for a pup with IVDD.  We don't think Zini would be a good office candidate.  She will bark at unfamiliar noises and has slight anxiety around new people.  She would be much happier with a full-time or part-time work-from-home or stay-at-home parent!  She must be offered a few potty breaks during the workday. Zini is such a resilient pup and she makes it so easy to care for her special needs.  She is such a little love bug who has so much energy and is always ready to go with those she loves the most.  Zini is most definitely a Velcro Frenchie.  
If you feel like your family might be the perfect forever home for Zini, please submit an adoption application for her today!!
Please note that it will likely be at *least* a 3–4 week minimum before you hear back from us after submitting an adoption application.
We typically accept for new applications for a period of 7 days or until 20 applications have been received for any newly available dog. After that time period, the applications are sent on to the foster family for review and that usually takes from at *least* a few days to a week to sort through the applications, etc. Most of our dogs receive several applications so this process does take some time, especially on dogs who are more popular for one reason or another.
We do require phone interviews to be conducted between the foster family and potential adopters, vet reference checks and a home visit to be conducted for all potential adopters, if they are selected as the top choice applicant, which will also take time to complete. That being said, we do always let our applicants know if they are chosen or not.
IF you happen to not be chosen, please don't feel discouraged as, again, we usually get several applications for each dog, and sometimes it can be very difficult to choose just one adopter. In those cases, we usually offer to keep the applications for adoption on file for any future dogs that come into our rescue.
ALL adopters are required to come and pick up their adopted dogs in person from the dog's foster home (we do not ship any of our dogs). Please have road/driving transport plans in place to pick up an adopted dog before you apply! While we are not against adopters flying a foster dog in cabin on a commercial flight, please keep in mind that many are not good candidates for flying due to size and/or being a brachycephalic/short nosed breed.
If an adopter cannot keep one of our grads, for any reason at all, at ANY point in time, they *must* be willing and able to return their adopted dog to his/her original foster home, despite distance and any costs that would be required to do so.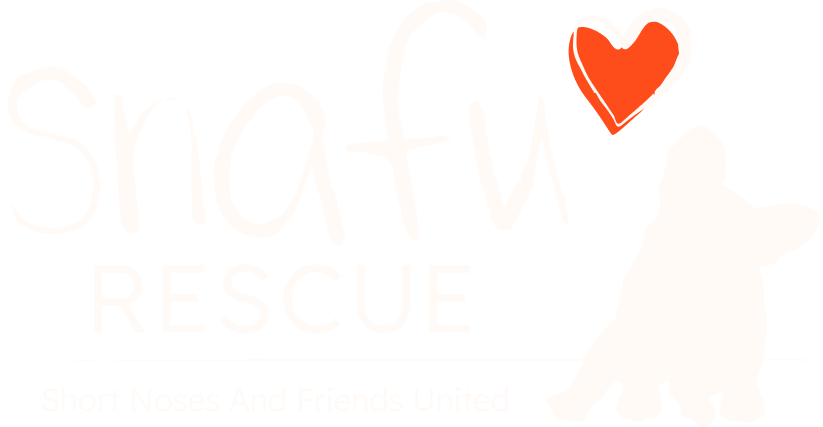 ​SNAFU Rescue is a 501(c)(3) tax deductible non-profit organization that rescues, rehabilitates, and rehomes all short-nosed breeds in need.
© Copyright 2023, SNAFU Rescue (Short Noses and Friends United Rescue). All Rights Reserved.