now accepting applications
Introducing, Spanky!
Please carefully review the information below. If you feel like your family might be the perfect forever home for Spanky, please submit an adoption application!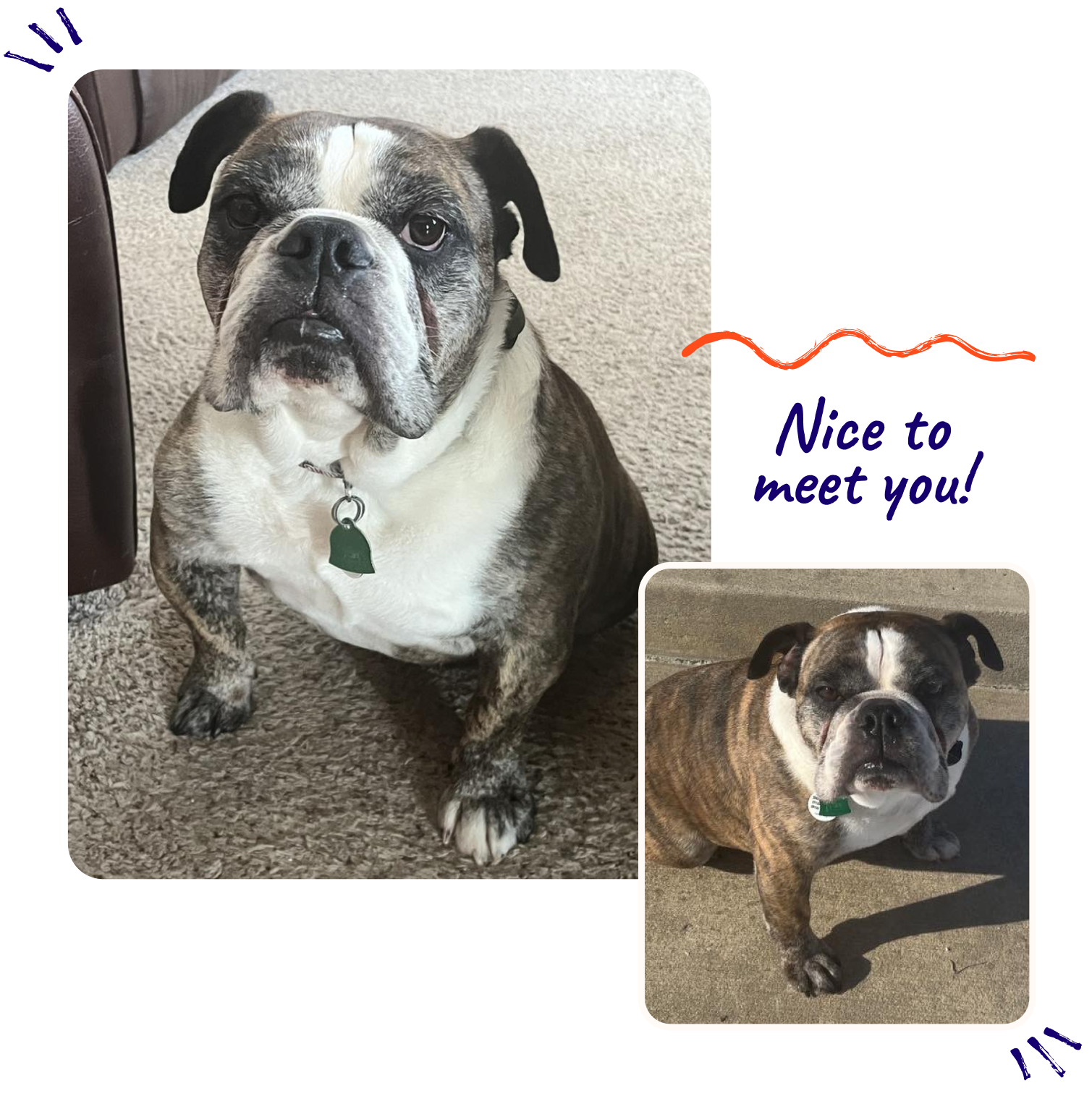 Age
6 years old [DOB: 10/27/2016]
Spanky's Story
Spanky was surrendered to the SNAFU rescue to no fault of his own.  His family had smaller children in their home and Spanky was not a good fit for smaller children.  They wanted to find him a loving, quiet place to call his own.   
Spanky is a serious fellow. He resembles a personality of a grumpy old man that likes things the way he likes them and prefers to avoid any change. He is persnickety about sharing his items and his space with other dogs; he will let out a long sigh of displeasure when his puppy foster sister wants some attention from him but overall will tolerate her puppy-like shenanigans. Spanky has an overall anxious personality and has a hard time relaxing; he is an AMAZING watchdog as he keeps his eyes and ears open for anything that may pose his beloved humans any danger. He prefers his time outdoors napping in the sun watching the passersby. Even though he doesn't relax all that often, this stubborn Bulldog will graciously accept any attention offered, especially back rubs!
It does take time for Spanky to earn your trust but once he does be ready for a dog who follows you around like your shadow because he just loves to hang out and be near his people at all times! Yes, Spanky can be 100% a velcro dog. He desperately wants to please his people but is as stubborn as they come; unless snacks are involved! When Spanky isn't glued to his humans you can find him exploring the yard or sunning his Bulldog buns outdoors. He isn't one for toys or bones but with time we are hopeful he will start to enjoy the perks of being a loved pet! Spanky is a protector and does not like to be snuck up/caught off guard. He is very stuck in his ways and needs slow introductions to new things and when new people enter the home.
Spanky has a furry foster sibling and as mentioned tolerates them; he would much rather not be bothered by the presence of other animals (cats are a BIG no for Spanky). He isn't interested in engaging them in any kind of socialization or play but can peacefully coexist.  Spanky has settled into his foster home's routine/schedule and now is a pawfect dog in his foster home… His one weakness is his need to resource guard items specifically food and snacks (only from other dogs and NOT people). His foster family is working on correcting this unwanted behavior but true to Spanky's stubborn ways, it has been a slow process (we believe this behavior will cease as the only dog in the home). He is learning to be a gentleman, learning to take direction, and making improvements every day!
Spanky is experiencing a big transition and will need firm leadership, patience, and consistent correction to help him learn proper dog behavior, learn proper dog manners, and know what is expected in his adoptive home. Although Spanky needs some coaxing and does push the limits, he does look to his leader for direction.  Positive reinforcement and a lot of praise when positive behavior is present have really worked wonders for Spanky (especially when there are snacks involved)! Spanky has NOT attempted to bite in his foster home but has given warning snaps when new people enter his foster home. Spanky is now more comfortable in his foster home and this unwanted snapping behavior has greatly reduced but he should always be kept on a short leash when new people enter the home. Spanky seems to get along well with every adult human he meets!
Due to his previous snapping history, his foster family believes he would be best in a home with dog-savvy, gentle, quiet adult children 18 years or older; ideally he would be best around adults ONLY. He is an amazing guard dog, companion, and protector for someone that does not have a revolving door of loud guests. As with all of our dogs, we recommend slow introductions between dogs AND supervision around children when introducing a new dog in your home to make sure both he and they are kept safe. 
Spanky is 100% potty trained without any accidents in his foster home. He isn't a big fan of his crate as he much prefers his bed in a special dog-safe space versus a crate. He is trusted in his foster home and has a dedicated space just for him. He is only left alone only for shorter periods of time and will spend his time away from his beloved humans in his space. Spanky has some separation anxiety and for his safety, we recommend that a similar arrangement is kept for him. Spanky does well in a human bed and can be found underneath the covers nestled right next to his human making sure they are safe. It's about the cutest thing ever! 
Medically, Spanky seems to be in great health! He has been neutered, updated on vaccinations/dewormings, microchipped, and has been given a clean bill of health by our veterinarian! He does have some mild seasonal allergies that can be treated with a daily allergy pill. In addition, Spanky is on a daily anti-anxiety med to help with his ongoing anxiety. We have noticed a difference in his uneasiness since starting the medication!  
Spanky would do well in a home with a fully fenced yard, a family that can spend a lot of time with him, and is willing to help him overcome his anxiety. A house with a tall fenced yard will be preferred for him due to his love for the outdoors and his need to sun his buns (as opposed to a multiple-floor apartment-style dwelling with no yard). He needs a quiet atmosphere and a share-walled living arrangement would not be ideal for him. We don't think he'd be a good office dog due to his resource guarding issues as he would much prefer a work-from-home or stay-at-home parent as he really adores his humans and would help with his anxiety. Spanky is okay to sleep a few hours of the day away in his favorite room as long as he has a comfy blanket, and his plush bed as long as his people don't leave him for too long. He loves long naps on the couch right next to his favorite human as they offer him some back rubs!
Spanky deserves a quiet family/person to call his very own FOREVER! He is just about the most stubborn, protective boy looking for some extra TLC, guidance, and leadership. Spanky is looking for a home that can offer him an established routine and patience as he adapts to yet another environment. His adoptive family must be diligent in working with him, helping him overcome his anxious behavior and providing a quiet, stable environment that he can call his own forever! This boy will forever be the MOST loyal companion. If you feel like your family might be the perfect forever home for Spanky, please submit an adoption application for him today!! 
Please note that it will likely be at *least* a 3–4 week minimum before you hear back from us after submitting an adoption application.
We typically accept for new applications for a period of 7 days or until 20 applications have been received for any newly available dog. After that time period, the applications are sent on to the foster family for review and that usually takes from at *least* a few days to a week to sort through the applications, etc. Most of our dogs receive several applications so this process does take some time, especially on dogs who are more popular for one reason or another.
We do require phone interviews to be conducted between the foster family and potential adopters, vet reference checks and a home visit to be conducted for all potential adopters, if they are selected as the top choice applicant, which will also take time to complete. That being said, we do always let our applicants know if they are chosen or not.
IF you happen to not be chosen, please don't feel discouraged as, again, we usually get several applications for each dog, and sometimes it can be very difficult to choose just one adopter. In those cases, we usually offer to keep the applications for adoption on file for any future dogs that come into our rescue.
ALL adopters are required to come and pick up their adopted dogs in person from the dog's foster home (we do not ship any of our dogs). Please have road/driving transport plans in place to pick up an adopted dog before you apply! While we are not against adopters flying a foster dog in cabin on a commercial flight, please keep in mind that many are not good candidates for flying due to size and/or being a brachycephalic/short nosed breed.
If an adopter cannot keep one of our grads, for any reason at all, at ANY point in time, they *must* be willing and able to return their adopted dog to his/her original foster home, despite distance and any costs that would be required to do so.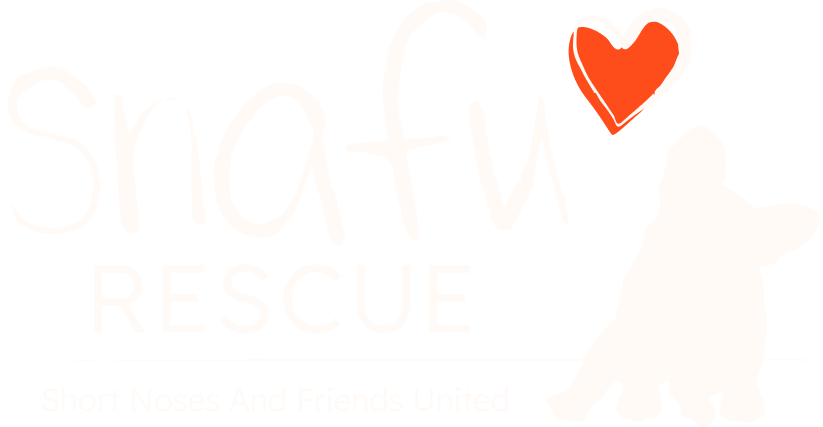 ​SNAFU Rescue is a 501(c)(3) tax deductible non-profit organization that rescues, rehabilitates, and rehomes all short-nosed breeds in need.
© Copyright 2023, SNAFU Rescue (Short Noses and Friends United Rescue). All Rights Reserved.