now accepting applications
Introducing, Sebastian!
Please carefully review the information below. If you feel like your family might be the perfect forever home for Sebastian, please submit an adoption application!
Age
1 yr old [DOB: 05/02/2022]
Sebastian's Story
Sebastian was surrendered to SNAFU Rescue by a good Samaritan who wanted to ensure he would be placed in a loving pet home to be spoiled and live out his life as a cherished pet!
PLEASE READ HIS BIO VERY CAREFULLY PRIOR TO APPLYING.
Bash (as he is affectionately referred to) is such an active little puppy! He is goofy, happy, playful, derpy and an adorably loving boy. He wants to run, wrestle, play and cuddle with every dog that will let him. The other dogs in his adoptive home must be prepared for an immediate new best friend. Bash is overly social and has yet to meet any human (big or small) that hasn't fallen head over paws for him! Bash is all play all the time; he is ALL gas and no brakes! He prefers to take his playtime outdoors but is okay settling indoors with his favorite toy (all toys are Bash's favorite toy) or with his beloved Nylabone.
Once one of his furry foster friends raises their paw and indicates "wrestlemania" is on, Bash is the first one in the ring! This playful boy will attempt to engage any dog in his fun and if he can't get them to play, he'll move on to his beloved humans. Big or small he loves them all! In true bulldog fashion, he does have a chill side and will peacefully nap next to his humans when he is completely spent! He follows his foster family around and truly believes he is the best helper when it comes to most household chores; don't let him tell you any different! His foster family has been working with him on what is okay and not okay to chew and with proper direction he has proven to be a quick study. He is still learning how to play gently, how to share his prized possessions and overall dog manners. As any puppy he should always be closely supervised and have a couple of nylabones/chew toys available to redirect him to what is an appropriate chew item.
Bash's foster family feels he would thrive in a home with other dogs, probably more so with easy going, friendly dogs that have the patience and an abundant amount of energy level to match his. Bash is cat savvy as long as the cat is dog savvy! Since he loves wrestling and rough housing with other dogs during playtime, he would also need other dogs that wouldn't mind a young dog around that loves to play and still has that puppy energy! Bash is a complete people person! He has yet to meet a human he hasn't demanded attention from, greeted with a cute little bark and wanted to receive some love and pets from. He falls head over paws for any and all human attention! Given his overzealous temperament, overall wild disposition we feel he would be pawfect in a home with children 5 yrs or older as long as they are calm, gentle and dog savvy. As always, Bash should always be supervised when he meets children and other dogs to make sure he and they are kept safe.
Bash is urine and fecal incontinent and is unable to tell when he needs to urinate or defecate. He will need an adoptive family that is able and willing to express his bladder and change his diapers for the rest of his life. His adoptive family should have some experience or education with incontinent dogs and be prepared for the additional care that comes along with his situation. Bash does VERY WELL with his diaper routine and responds well when it is time to change his diaper. Currently his foster family uses a combination of disposable toddler diapers, washable dog diapers and belly bands. Because he is more susceptible to UTIs, keeping him clean and dry is imperative to ensure he doesn't encounter additional infections.
Bash HATES his crate. He is offered a small dog safe space in his foster home when his family happens to leave them home. For his safety, we recommend that he is kept in a similar safe area when his humans are away from the home and/or he is left unsupervised, so he is safe and secure. He does not know danger and is still learning what is expected of him inside the home. Bash does sleep in a human bed at night and requests that his adoptive family offers him this same luxury.
Medically, Bash is in good health other than his incontinence. He does benefit from manual expression several times a day to keep UTIs at bay. He is also fed a raw diet; this helps keep his bowel movements at manageable sizes and quantities. As long as he is kept clean to prevent any infections, he should be able to live a pretty normal life. Bash has been neutered, updated on vaccinations, deworming and heartworm prevention. He is microchipped and has been given the all clear for adoption by our veterinarian! Bash does have a wonky gait but this does not stop him at all! Bash runs, jumps, and plays just like any puppy his age would.
Bash would be a great addition to any family as long as a consistent routine is established, he follows his prescribed diet/supplements and has a healthy outlet for his energy. A home with stairs would be just fine for him as he is a champ with stairs! A fenced yard is a requirement for adoption as Bash is a RUNNER! It is always preferred for his ongoing safety. Ultimately, Bash would best fit a family that is willing to establish and maintain a routine. He will need a family that is not regularly away from the home for more than 4 hours or can come home to change his diaper mid-day if they work outside of the home. We also think he'd love to go work with his new family if they are able to take him with them.
He adores car rides and flirting with every new person he meets! He would love an active family that is willing to take him along for the ride; he is just about the cutest partner to take anywhere! If his people are not able to take him to work with them, no problem — he's a happy little camper sleeping just a small portion of the day away in his safe space as long as he has a furry buddy to hang with, his people can provide a soft blankie, a good nylabone chew toy or two and can arrange for a midday diaper change for him!  The ideal family would have a stay-at-home or work-from-home parent!
Bash's foster family reports that he is an unbelievably sweet boy and would be such a great addition to a family that can give him the time, love, and extra care that he needs and deserves. He is the most compliant little fellow during diaper changes and getting dressed (he wears a onesie to ensure his diaper stays in place). He loves to cuddle, play hard and nap hard!
Please note that it will likely be at *least* a 3–4 week minimum before you hear back from us after submitting an adoption application.
We typically accept for new applications for a period of 7 days or until 20 applications have been received for any newly available dog. After that time period, the applications are sent on to the foster family for review and that usually takes from at *least* a few days to a week to sort through the applications, etc. Most of our dogs receive several applications so this process does take some time, especially on dogs who are more popular for one reason or another.
We do require phone interviews to be conducted between the foster family and potential adopters, vet reference checks and a home visit to be conducted for all potential adopters, if they are selected as the top choice applicant, which will also take time to complete. That being said, we do always let our applicants know if they are chosen or not.
IF you happen to not be chosen, please don't feel discouraged as, again, we usually get several applications for each dog, and sometimes it can be very difficult to choose just one adopter. In those cases, we usually offer to keep the applications for adoption on file for any future dogs that come into our rescue.
ALL adopters are required to come and pick up their adopted dogs in person from the dog's foster home (we do not ship any of our dogs). Please have road/driving transport plans in place to pick up an adopted dog before you apply! While we are not against adopters flying a foster dog in cabin on a commercial flight, please keep in mind that many are not good candidates for flying due to size and/or being a brachycephalic/short nosed breed.
If an adopter cannot keep one of our grads, for any reason at all, at ANY point in time, they *must* be willing and able to return their adopted dog to his/her original foster home, despite distance and any costs that would be required to do so.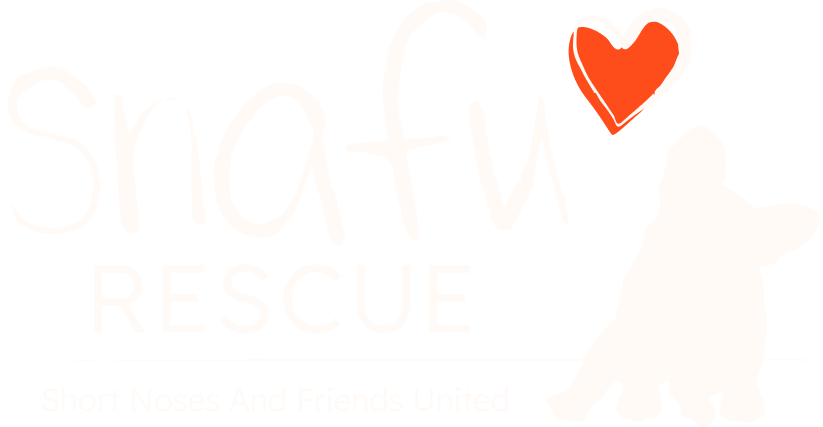 ​SNAFU Rescue is a 501(c)(3) tax deductible non-profit organization that rescues, rehabilitates, and rehomes all short-nosed breeds in need.
© Copyright 2023, SNAFU Rescue (Short Noses and Friends United Rescue). All Rights Reserved.