now accepting applications
Introducing, Rupert!
Please carefully review the information below. If you feel like your family might be the perfect forever home for Rupert, please submit an adoption application!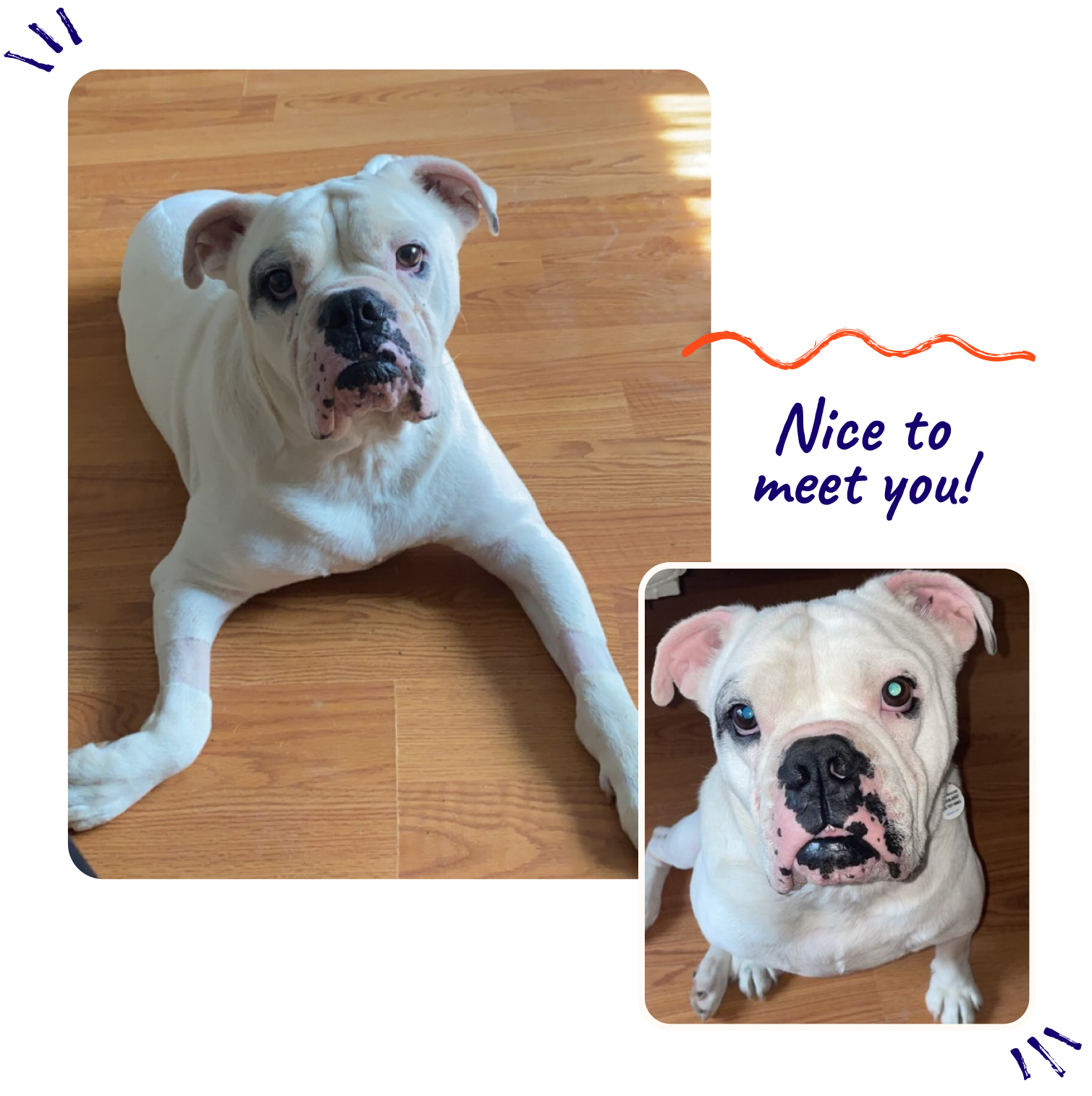 Age
3 years old [DOB: 08/12/2019]
Rupert's Story
Rupert found himself at the SNAFU Rescue via a shelter.  He spent nearly 2 years of his life in the shelter and he needed a rescue with the resources to be able to provide him the orthopedic care he required. 
Rupert is an easygoing, laidback, lazy, outdoor-loving American Bulldog. He is always ready to chill out and find a comfy place to nap.  Rupert is a social butterfly!  He perks up when it is time for his bulldog-suited walk so he can show off his mastered leash skills.  Rupert is a boy around town flirting his way around the neighborhood soaking up all the attention that is offered.  He hasn't met a stranger and every single person (big or small) he meets falls head over paws for him!  While Rupert is not an active runner he sure does enjoy daily exercise and some much-needed socializing.  He is the pawfect balance of interested and interesting!  When Rupert isn't burning off some energy outside, you can find him searching for a comfy place to grab a snooze; his plush donut bed is a fan favorite of his!  When he is in relaxation mode (he can be a VERY independent pup), Rupert gravitates towards any soft plush toy or will choose to nibble on his favorite Nylabone.  After a chill but brief play session, Rupert will settle inside for some much-needed chill time and snuggle with his humans on the couch.  He is true to his Bulldog breed and enjoys a nap on the couch and even will settle in for some TV time!  In between the bouts of activity, he desires the company of his humans.  Nothing makes him happier than his humans participating in all the things he loves and he will reciprocate that affection.  Rupert loves his time with his people and insists on always being within earshot of them.  He will take any pets and belly scratchies offered, watch his human's every movement as they move about the house, and his favorite… snuggle time on the couch!  He will inch up right next to his people for a much-needed little snooze.  Rupert enjoys meal time, snack time and nap time, and meal time; did we say meal time twice???  He is very food-motivated but has some allergies that need some ongoing maintenance. When the weather cooperates, you will find Rupert out on the deck sunning his cute little Bulldog buns, rolling about in the yard, or requesting a car ride.  He currently lives with several furry foster siblings.  He is often picky about his furry friends but with proper SLOW introductions, he has gotten along with EVERY dog he has met (gender or size does not seem to be a factor).  Rupert displays some resource-guarding tendencies with other dogs, (NOT HUMANS) and they stem around food, toys, and sometimes human attention. Rupert will correct easily but should be offered his bone when he is alone and be fed separately for harmony. Rupert is experiencing a big transition and will need leadership and consistent positive reinforcement to help him adjust to his adoptive home.  He seems to get along well with every human he meets!  Because of his overall gentle disposition, his foster family believes he would be best in a home with dog-savvy, gentle, children 10 years or older and would do equally as well in a home with another balanced furry companion or as an only dog.    As with all of our dogs, we recommend slow introductions between dogs AND supervision around children when introducing a new dog in your home to make sure both he and they are kept safe.  
Rupert is 100% potty trained!  As with all of our dogs, any adopter will need to be able to offer him a consistent schedule to ensure continued success.  Rupert remains accident free in his crate and is fully crate trained; sleeping quietly in his crate when his foster family is away from the home.  Rupert is often trusted in a dog-safe space and does well and is trusted!   We know Rupert would love to share a bed or have a bed in the room with his adoptive family as he truly relishes in the comfort of his humans.  For his safety, we recommend a similar arrangement is kept for him when his family happens to be away from the home. 
Medically, Rupert seems to be in good health!  He has been neutered, heartworm tested, updated on vaccinations/dewormings, microchipped and has been given a clean bill of health by our veterinarian!  Rupert had a double TPLO and with daily joint supplements he is moving around wonderfully!  He does have hip dysplasia and it is very possible he will never need any surgery to repair his hips. The arthritis is managed with being at a healthy weight and on a good quality joint supplement.  Rupert does suffer from some allergies.  He is on a raw diet (if in Omaha Metro can be obtained for $35 per month), a daily allergy pill, weekly medicated baths and cytopoint shots (when necessary during VERY high allergy months).  
Rupert is very adaptable and would do great in most any type of home!  A multiple floor apartment style dwelling or home with LOTS of stairs would NOT be ideal longer term as albeit is a champ at the stairs knowing that Rupert has arthritis.  He would be best suited for a home with little to no stairs. Rupert will need lots of outdoor time and walks and would prefer a fully fenced in yard to be able to sun his buns in a safe place.  Although a fenced in yard/area is not required for Rupert it is always preferred for his ongoing safety.  We think he would adapt to an office environment and requests to be the official greeter as long as he could be the only furry creature around.  Rupert LOVES new environments and insists on smelling every corner, meeting all the people before he is ready to settle in the comfy bed and nibble on his bones.  You can't take him to the office- that is okay!  He just would love to have a stay at home or work from home family member (part-time or full-time).  If that is not an option, Rupert would be okay with the companionship from a furry family member while his humans are away from the home as long as they can arrange a mid-day potty break for him (he does great at home alone during the work day).  Rupert desires a family with many members to dote on him, one with a lifestyle that includes ample time for a dog, one that can offer him the little "extra: he needs to keep his allergies at bay, one that encourages him to participate in family activities and one that will spoil him with all the comforts of pet life!   
If you feel like your family might be the perfect forever home for Rupert, please submit an adoption application for him today!! 
Please note that it will likely be at *least* a 3–4 week minimum before you hear back from us after submitting an adoption application.
We typically accept for new applications for a period of 7 days or until 20 applications have been received for any newly available dog. After that time period, the applications are sent on to the foster family for review and that usually takes from at *least* a few days to a week to sort through the applications, etc. Most of our dogs receive several applications so this process does take some time, especially on dogs who are more popular for one reason or another.
We do require phone interviews to be conducted between the foster family and potential adopters, vet reference checks and a home visit to be conducted for all potential adopters, if they are selected as the top choice applicant, which will also take time to complete. That being said, we do always let our applicants know if they are chosen or not.
IF you happen to not be chosen, please don't feel discouraged as, again, we usually get several applications for each dog, and sometimes it can be very difficult to choose just one adopter. In those cases, we usually offer to keep the applications for adoption on file for any future dogs that come into our rescue.
ALL adopters are required to come and pick up their adopted dogs in person from the dog's foster home (we do not ship any of our dogs). Please have road/driving transport plans in place to pick up an adopted dog before you apply! While we are not against adopters flying a foster dog in cabin on a commercial flight, please keep in mind that many are not good candidates for flying due to size and/or being a brachycephalic/short nosed breed.
If an adopter cannot keep one of our grads, for any reason at all, at ANY point in time, they *must* be willing and able to return their adopted dog to his/her original foster home, despite distance and any costs that would be required to do so.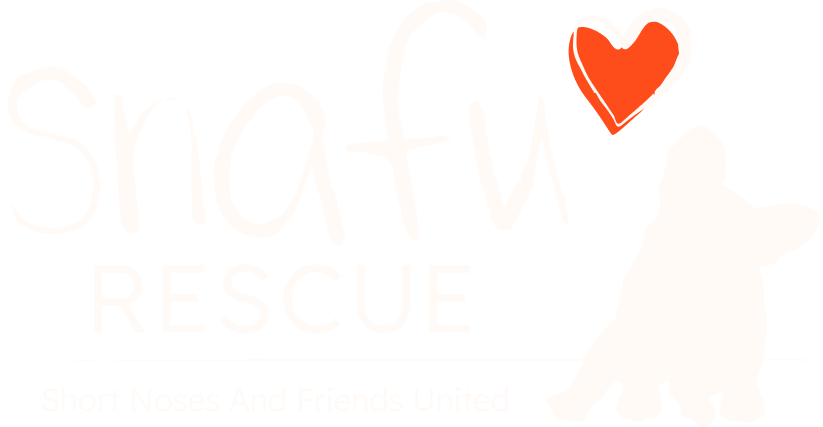 ​SNAFU Rescue is a 501(c)(3) tax deductible non-profit organization that rescues, rehabilitates, and rehomes all short-nosed breeds in need.
© Copyright 2023, SNAFU Rescue (Short Noses and Friends United Rescue). All Rights Reserved.