now accepting applications
Introducing, Pickles!
Please carefully review the information below. If you feel like your family might be the perfect forever home for Pickles, please submit an adoption application!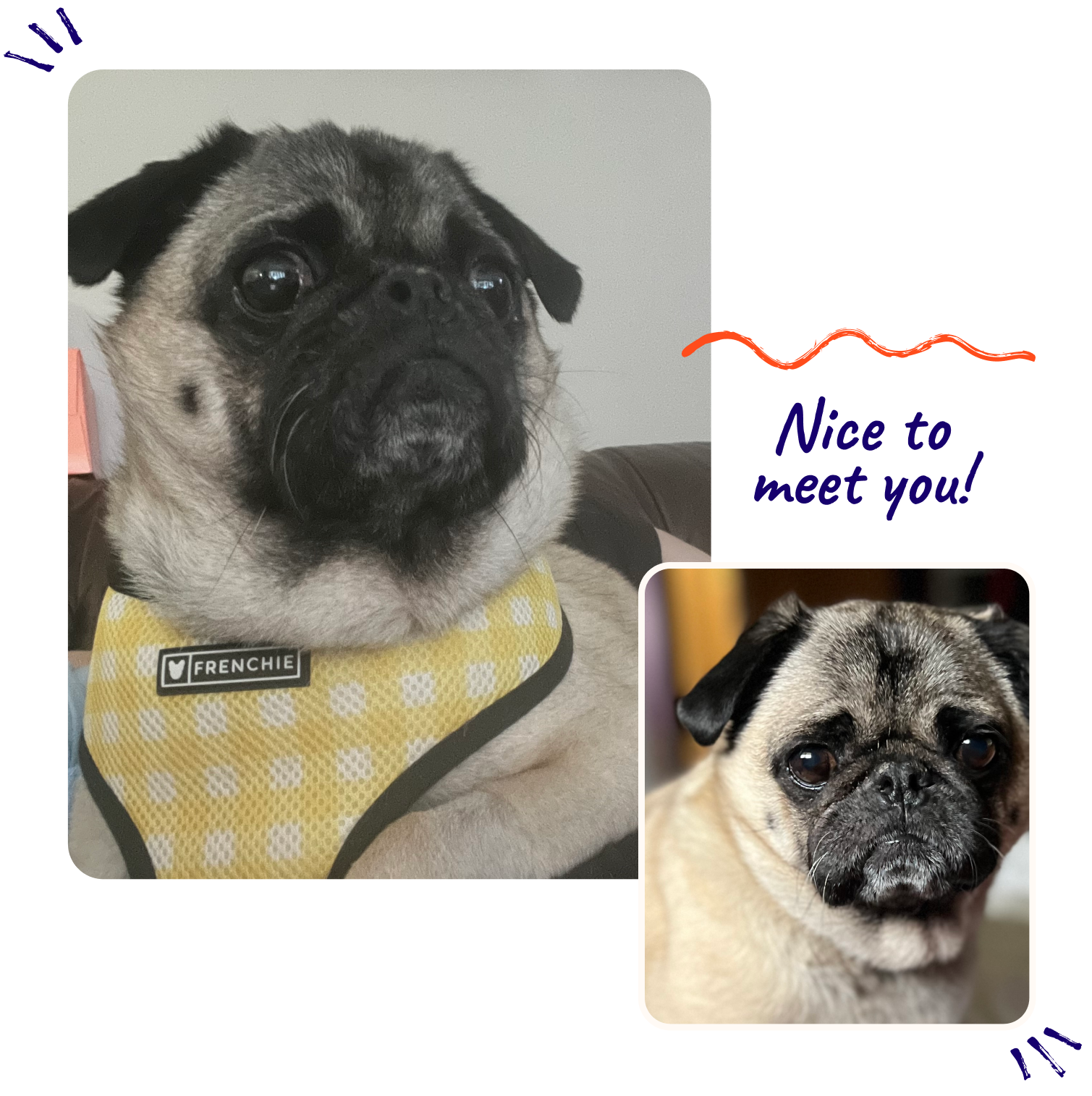 Age
7 years old [DOB: 04/10/2016]
Pickles' Story
Pickles came into SNAFU Rescue via a private party.  His surrendering family wanted him to be placed in a loving home that has the time to dedicate to him. 
Pickles has a love for humans of all ages and kinds and is ready to find a family who will love him and his quirks. He is initially shy and temperamental when meeting new people or when in new situations but once trust is developed he is a Stage 5 clinger!  Once he develops confidence in his surroundings/relationships, Pickles loveable side really shines front and center!  He enjoys cuddling and will often put his head on his favorite human's lap and nuzzle in for affection/attention.  His favorite pastimes include following around his humans, sitting on the lap of his humans, scouting out the available lap scene to find one available to cuddle up in for some TV time, and finding something to eat!  Pickles is very much a clingy Pug!!  He is such a content, social little guy who loves to relax and be snuggled.  Pickles wants to meet everyone and if they scratch his upper back he will love them for a lifetime.  He also enjoys barking at anyone or thing that passes by the house without his permission.   When Pickles is feeling a bit "sparky" he will take to the outdoors to run about to show his playful and joyful side.  He does fancy the outdoors and cannot wait for his daily walks to show off his improving leash skills.  After a good romp outside, Pickles is ready for a snooze!  Did we mention he enjoys watching TV all snuggled on the couch?  Pickles will always look for his people to partake in a cuddle session during his snooze.  He truly just wants to be with his people all the time as he finds comfort in their presence if they happen to be in the same room as he is.  Pickles isn't much for playing with toys but does fancy a bone when he needs to occupy some time.  His favorite is real beef bones that are soft and easy to chew.  Pickles can be very particular when he is nibbling away on his prized possession and would much rather be alone and not bothered during his chew session.  In addition, Pickles does not like his face messed with (nose butter, wiping, etc.)  and will posture and growl as a warning that he doesn't like it.  If his warning is not taken seriously, Pickles will snap back with a warning.  He is typically a flexible little boy but he has some quirks that need to be managed around.  Pickles mostly lighthearted disposition allows him to get along with his furry foster siblings. He has a very mild "back seat" temperament which is favorable when he is around other dogs and does expect his friends to share his easy-going personality.  He doesn't prefer to be around rambunctious, wild dogs with puppy-like behaviors.  Pickles doesn't take well to "crazy".   After the trust is established, Pickles will take to any human he interacts with.  He has been around small children and did wonderful  with them (keeping in mind he cannot be bothered when he has a high-valued item).  Pickles is fickle… if he doesn't want to do something he will let you know.  He will display his displeasure and has bit at the person trying to get him to do something he doesn't want (like picking him off a comfy bed when he doesn't want to move). Pickles has not harmed anyone but those episodes can be scary if unexpected.  He is as stubborn as the come and patience will need to be exercised.  We feel Pickles will do perfectly well with other passive, balanced, mild-temperament dogs and with EXTREMELY dog-savvy, gentle, respectful children 8 years or older.  Pickles has taken to marking in his foster home and we believe that bad habit is due to the males dogs in his home so a female dog friend is preferred in hopes his marking habit will disappear.  Pickles has been around cats and does well with them.  Slow introductions to other dogs and children in the household are a must and he should always be supervised to make sure both he and they are kept safe. 
Pickles is fully potty trained!  As mentioned, he does have a bad habit of marking and currently wears a belly band in his foster home but is making vast improvements weekly.  As with all of our dogs, any adopter will need to be patient and willing to continue working on his potty training success as he acclimates to his new home and surroundings.  He is crate trained and does not have any accidents in his crate.  He sleeps quietly in his crate when his foster family happens to be away from the home as he has a plush warm blanket/comfy bed to provide him comfort.  Because we know Pickles loves to snuggle, we know he would much rather share a bed and offer many cuddles with his new family!  
Medically, Pickles is in overall good health.  He has been neutered, microchipped, had a dental, nares widened, soft palate shortened, heartworm tested, updated on vaccinations/dewormings and has been given the okay to adopt by our veterinarian. Pickle's is on  an anti-anxiety med.  Our trusted vet is hopeful that will continue to help with his marking and reduce his anxiety overall; he is to remain on this medication under the supervision of a veternarian.  He cannot be abruptly taken off.  Pickles has dry eye and requires a prescription and OTC eye lube applied multiple times daily.   
Pickles was returned to the rescue due to an injury to his spinal cord.  Pickles has made a remarkable recovery and has almost full function with his back legs.  Pickles will need to be limited physically ensuring no rough play, not allowing any jumping on and off furniture and minimizing the use of stairs.  Walks and backyard time will need to be monitored to ensure he is not getting tired and stumbling around which could cause additional injuries. Pickles is currently doing physical therapy at home to help build his muscles back up for his back legs and goes on 30 minute walks with the goal of increasing them to 45 minutes without any assistance.  He occasionally will drag his right hind leg when he is tired or just walking up.  
Pickles would do great in any type of home that has the time needed to allow him to be the center of attention! A fenced-in yard is preferred for Pickles but not required as long as he is secured with a leash and harness when he is out for potty breaks. Since he is a chill little boy, we think he would love to go to work with his new family if they wanted to take him with them to the office.  He would really love it if his family had a work-from-home or stay-at-home parent as he enjoys the company of his humans.  If his adoptive family is not not able to take him to work or stay at home with him, no problem at all – he's completely happy sleeping part of the day away as long as he has a warm area, a soft blanket and his people are not gone all day.  Pickles is a snuggle bug looking for a family that can offer unlimited lap time.  He also just loves to be part of the action and around everyone in the house as an active family buzzes around. He will repay all the love with his unwavering loyalty!  Pickles is such a funny soul and is ready to please his new family and fur siblings.    
If you feel like your family might be the perfect forever home for Pickles, please submit an adoption application for him.   
Please note that it will likely be at *least* a 3–4 week minimum before you hear back from us after submitting an adoption application.
We typically accept for new applications for a period of 7 days or until 20 applications have been received for any newly available dog. After that time period, the applications are sent on to the foster family for review and that usually takes from at *least* a few days to a week to sort through the applications, etc. Most of our dogs receive several applications so this process does take some time, especially on dogs who are more popular for one reason or another.
We do require phone interviews to be conducted between the foster family and potential adopters, vet reference checks and a home visit to be conducted for all potential adopters, if they are selected as the top choice applicant, which will also take time to complete. That being said, we do always let our applicants know if they are chosen or not.
IF you happen to not be chosen, please don't feel discouraged as, again, we usually get several applications for each dog, and sometimes it can be very difficult to choose just one adopter. In those cases, we usually offer to keep the applications for adoption on file for any future dogs that come into our rescue.
ALL adopters are required to come and pick up their adopted dogs in person from the dog's foster home (we do not ship any of our dogs). Please have road/driving transport plans in place to pick up an adopted dog before you apply! While we are not against adopters flying a foster dog in cabin on a commercial flight, please keep in mind that many are not good candidates for flying due to size and/or being a brachycephalic/short nosed breed.
If an adopter cannot keep one of our grads, for any reason at all, at ANY point in time, they *must* be willing and able to return their adopted dog to his/her original foster home, despite distance and any costs that would be required to do so.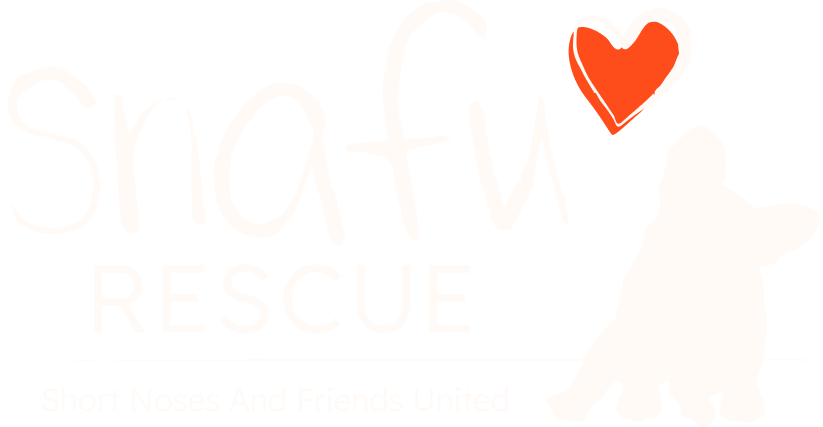 ​SNAFU Rescue is a 501(c)(3) tax deductible non-profit organization that rescues, rehabilitates, and rehomes all short-nosed breeds in need.
© Copyright 2023, SNAFU Rescue (Short Noses and Friends United Rescue). All Rights Reserved.