now accepting applications
Introducing, Okie!
Please carefully review the information below. If you feel like your family might be the perfect forever home for Okie, please submit an adoption application!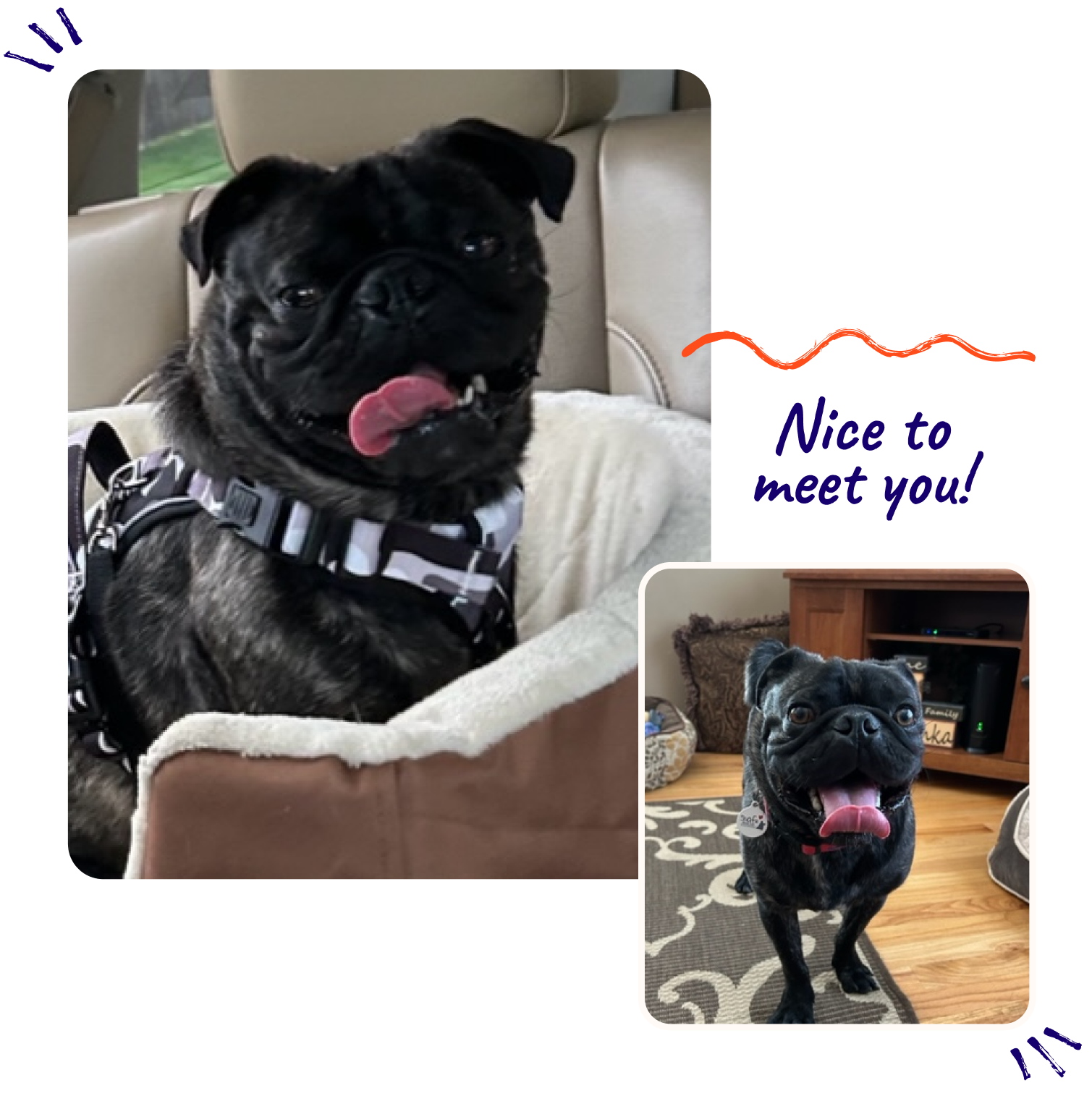 Age
2 years old [DOB:05/18/2021]
Okie's Story
Okie found his way into the SNAFU rescue via a shelter release.  He was picked up wandering the streets and the shelter wanted him to be placed in a loving home and spend the rest of his years being a spoiled pet.
Okie is a ball of energy who gets along with all humans and dogs alike. He is very spunky and ready to play at the drop of a hat. He loves all toys and bones but prefers a soft plushy to chew on. Since he is still young, he has many puppy tendencies that need to be monitored as he can be quite mischievous!  He will find items that are not "dog-approved" so all shoes, clothing, and dish towels are not safe (if they may be laying around)!  He is still working on learning what an appropriate toy is and that, not everything goes in his mouth! Okie is experiencing a big change and will need consistent leadership, ongoing monitoring, and positive reinforcement to learn what is expected of him in his adoptive home.  Okie has quite a playful side and will initiate play with his humans or other dogs.  He fancies a good game of chase and will often be the one to get the party started!   Okie is quite the Velcro dog and prefers to be around people most of the day. He needs activities and items that offer him enrichment.  Lots of walks and outside time with him to help burn off all the puppy energy he has! Once Okie is worn out, he will settle in and request a long nap.  During his much-needed nap time, Okie will request the company of his beloved humans.  He is such the sweetest lap dog! He prefers the comforts of a soft coach and will lay right beside his favorite people and snooze away only to wake up to grab a glimpse of what is on the TV.  After a pawfectly suite nap, Okie is yet again requesting some outside time for a little jaunt around the neighborhood.  He is leash trained but still needs a little work on perfecting his leash skills.  He is still a young dog and is learning proper commands.  He is receptive to correction; he is such a smart boy. Okie likes to go on rides in the car but prefers the open air of a Jeep! He likes the air on his face (properly strapped into his car seat of course) and will insist on back-to-back car rides!  He sees a vehicle and is immediately ready to go, go, go! He seems to get along well with every human he meets (big or small)!  He does have a lot of energy but has an overall sweet disposition so his foster family believes he would be best in a home with calm, dog-savvy, gentle, children of any age (knowing that Okie does have some puppy-like behaviors). Okie gets along famously with other playful dogs and would do great in a home with other dogs that would engage him in play and would tolerate his immature behaviors.  As with all of our dogs, we recommend slow introductions between dogs AND supervision around children when introducing a new dog in your home to make sure both he and they are kept safe.  
Okie is 100% potty trained, as long as he is kept on a consistent schedule.  He will often have an accident when in an unfamiliar environment. When he first arrived in his foster home, he had a few accidents but none since in the initial week. Okie will need a consistent potty schedule and a signal for potty.  He will often lollygag outside and needs a little extra monitoring to ensure he goes.  He will get distracted and Okie will try and get into things outside that are not dog appropriate. Swift correction is necessary.  Okie will also try to dig in the dirt so he must be monitored so he doesn't try to dig a way out of the yard. Okie is kennel trained but will whine for a bit before he settles in. Okie is quite the snuggle bug and prefers a human bed to snuggle in at night and would love to continue to share a human bed in his adoptive home. He does tend to want to play a bit before he settles in and often a chew bone will do the trick to calm him.  
Medically, Okie seems to be in great health!  He has been neutered, updated on vaccinations/dewormings, microchipped, and has been given a clean bill of health by our veterinarian!
Okie would do best in a home that has a fully fenced-in yard.  He can be a flight risk, can dig, and is still perfecting his leash skills.  For his ongoing safety, he will require a fully fenced-in yard.  Okie would not be an ideal candidate for a share-walled home.  He can whine a bit when crated.  Okie is looking for a family that has time to guide him into adult pet life, has the time to offer him a structured home, is overall active, and can include him in many family adventures!  He loves the car, his people, and being out and about the town!  Okie would love a furry pal to play with, children to dote on him, and lots of love and attention!  Okie would be a good office dog if his family wanted to take him to work.  If that is not an option, he would love to have a work-from-home or part-time stay-at-home or work-from-home parent.  He truly loves his people and would not do well being left for 8-9 hours during the work day.  Okie is a great dog who will play with other resident dogs or his adoptive family (he is an equal-opportunity player!). He is sweet yet adorably rambunctious!  He is still a young dog who is learning how to be a house pet, looking for a leader who will guide him and be patient with him. With the proper training and a little maturing on his part, he will make a great addition to any family!  
If you feel like your family might be the perfect forever home for Okie, please submit an adoption application for him today!! 
Please note that it will likely be at *least* a 3–4 week minimum before you hear back from us after submitting an adoption application.
We typically accept for new applications for a period of 7 days or until 20 applications have been received for any newly available dog. After that time period, the applications are sent on to the foster family for review and that usually takes from at *least* a few days to a week to sort through the applications, etc. Most of our dogs receive several applications so this process does take some time, especially on dogs who are more popular for one reason or another.
We do require phone interviews to be conducted between the foster family and potential adopters, vet reference checks and a home visit to be conducted for all potential adopters, if they are selected as the top choice applicant, which will also take time to complete. That being said, we do always let our applicants know if they are chosen or not.
IF you happen to not be chosen, please don't feel discouraged as, again, we usually get several applications for each dog, and sometimes it can be very difficult to choose just one adopter. In those cases, we usually offer to keep the applications for adoption on file for any future dogs that come into our rescue.
ALL adopters are required to come and pick up their adopted dogs in person from the dog's foster home (we do not ship any of our dogs). Please have road/driving transport plans in place to pick up an adopted dog before you apply! While we are not against adopters flying a foster dog in cabin on a commercial flight, please keep in mind that many are not good candidates for flying due to size and/or being a brachycephalic/short nosed breed.
If an adopter cannot keep one of our grads, for any reason at all, at ANY point in time, they *must* be willing and able to return their adopted dog to his/her original foster home, despite distance and any costs that would be required to do so.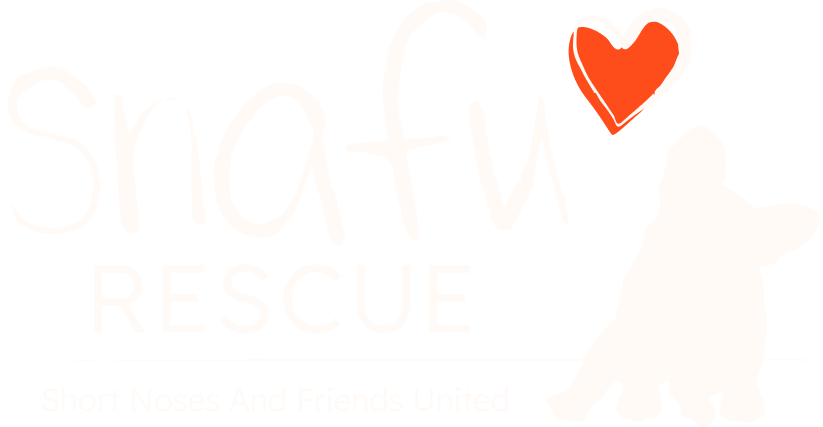 ​SNAFU Rescue is a 501(c)(3) tax deductible non-profit organization that rescues, rehabilitates, and rehomes all short-nosed breeds in need.
© Copyright 2023, SNAFU Rescue (Short Noses and Friends United Rescue). All Rights Reserved.