now accepting applications
Introducing, Maudie!
Please carefully review the information below. If you feel like your family might be the perfect forever home for Maudie, please submit an adoption application!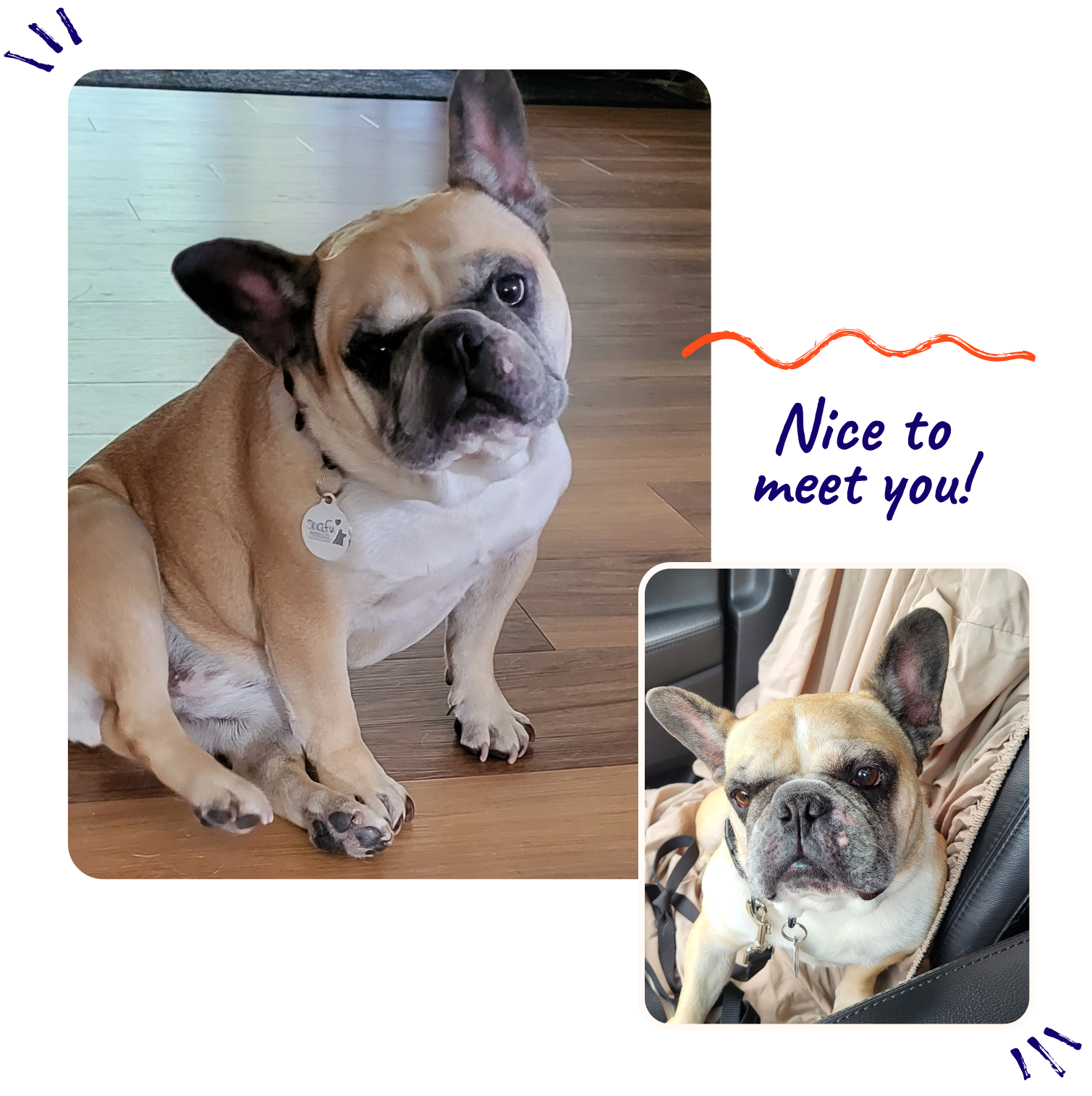 Age
5 years old [DOB: 10/05/2017]
Maudie's Story
Maudie found her way into SNAFU via a private party. Her family wanted her to be placed in a loving pet home to be spoiled, loved, and live out her life as a cherished only pet!
Maudie is the perfect balance of active and laidback.  She is a playful, social (after reassurance), stubborn, lighthearted, excitable, happy Frenchie girl who looks to her people for confidence. Maudie has a bit of a shy side at first.  She will warm up to new people but does take her time acclimating into her foster home. Mimi (as she is affectionately referred to) takes her sweet time to warm up to people and will look to that ONE special person to be her everything!  She is offered positive reinforcement and Mimi soaks that up like a sponge (especially when her favorite treat is involved).  Mimi is a simple gal in so many ways… she likes to lounge around in the coziest spot she can find and chew on a toy for a bit (a peanut butter-filled enrichment toy is her favorite)!  She has quite the sassy side as Mimi communicates through her little snorts, grunts, and wheezes.  Mimi is VERY expressive, and opinionated and her expressions can be very easily read.  She will tell you exactly what is on her mind and has a "do what I want attitude".  Like a typical stubborn Frenchie, Mimi believes all high-valued items are just for her and will not share them.  She was surrendered to rescue because of her resource-guarding tendencies.  Mimi finds value in her food, bowls, kennel, and beds.  She will also guard the rooms in which those items are kept.  She is very vocal; will attempt to bite and will warn ANY dog if they get too close or move too quickly in those rooms.  Mimi DOES NOT guard or respond this way to her humans. She will graciously allow her foster family to move her bowl, take her food and be around her prized possessions.  Mimi will redirect with a stern verbal correction (but is visibly upset).   Mimi is experiencing a big change as she only has one family in her life.  She will need a strong but calm, consistent leader, positive reinforcement, and consistent correction to help her learn proper dog behavior, learn proper dog manners, and know what is expected in her adoptive home. She is smart, a fast learner, and eager to please so we know Mimi will be able to adapt to a new home with the proper leadership! Maudie usually keeps to herself when feeling overwhelmed by the activity in her foster home, often retreating to her crate (her safe space) when feeling overwhelmed and watching happily from the sidelines. Outside of the home, Mimi is friendly to other dogs and often wants to engage in some play with them.  Her beloved home is her kryptonite.   Mimi gets along with every human (big or small) even though she can be quite nervous at first.  She chooses not to interact with the kids and if loud noises ensue she will seek comfort and retreat to her crate. Due to her resource-guarding tendencies, her foster family believes she would be best in a home with dog-savvy, gentle, children 12 years or older.  Maudie was reported to bite at toes in her previous home.  Her foster family has not experienced any aggression, bites, growls, or lounges to any human of any age in her home.  She has only shown this behavior to other animals in the home (attributed to her resource-guarding).  We also feel she will be most successful and NOT have any guarding issues as an only pet.  As a reminder, Mimi does not guard her food from humans, does not guard her water bowl, toys, or bones from her people, and as an only dog, we feel Mimi will be able to thrive in an environment that is furry-being free.  As with all of our dogs, we recommend slow introductions between dogs and supervision around children when introducing a new dog in your home to make sure both she and they are kept safe.  
Maudie is doing extremely well with potty training and her foster family reports she is completely trained.  She has grown comfortable and keeping a STRICT schedule has been needed to avoid a random accident.  Mimi can be VERY stubborn when trying to get her to do her business outside especially if someone is not outside to accompany her; she insists on finding the "pawfect" spot for her business.  As with all of our dogs, any adopter will need to be able to and willing to continue working on potty training with her, offering her a consistent schedule and working with her on a signal for potty.  Maudie is crate trained and will sleep quietly and accident-free when her foster family happens to be away from the home. For her safety, we recommend a similar sleeping/crating schedule be kept for her as she doesn't know danger. 
Medically, Maudie seems to be in good health!  She has been spayed, updated on vaccinations/dewormings, microchipped, heartworm tested, nares widened, palate shortened, tonsils removed, and has been given a clean bill of health by our veterinarian.  She does seem to suffer from those pesky Frenchie allergies that have led to chronic ear infections in her past.  She would greatly benefit from a consistent diet and a daily allergy pill.  Mimi has a recessed vulva that will need to be kept clean. She has a previous vet record of a luxating patella.  They are of a mild grade and do not bother her but her legs should be monitored if they noticeably cause her issues; she should be continued to be monitored as she ages (she has no noticeable issues with her knees).  Mimi would benefit from a daily joint supplement to help and should be limited from jumping on/off furniture.
Maudie would do best in a home with a fenced-in yard because she is extremely stubborn when doing her outside business in general and is quite nosey and likes to run when she is outside if something piques her interest.  She may be a good candidate for an apartment-style dwelling home (she occasionally barks while in her kennel) as long as the unit was on the 1st floor (limiting her stairs) and has an adjacent fenced-in yard for her potty pleasure.  Mimi knows who she is but still looks for confidence and reassurance from her special person.  She is the kinda gal that just desires the simple things in life.  Snacks, sleep, cuddles, dinner… wash, rinse repeat!  Mimi has a bit of a lazy side to her as she enjoys napping most of the day.  We think she would do great in a home with a working family or one with a work-from-home or a stay-at-home parent as she can be found quietly napping in the office of her foster family.  We also think she would love to go to the office with her new family!  She will happily sleep the day away in her bed, office chair, or on a soft comfy blanket as long as the office offers a calmer environment.  Ultimately, Mimi is a sweet, soulful girl who is looking for a family to call her very own; she will make a family VERY happy.  She is looking for a family that has a little patience as she acclimates to another new home as she can be unsure of new surroundings.  She is an adorably sweet dog that loves the company of her humans and will reciprocate all the love and affection she is offered. She is very lovable and instantly melts the hearts of those that meet her. Mimi will build up trust and allow her trusted people to lead her, especially if there is a favorite treat in play! This pretty little girl is looking to land in a home where she can thrive being an only pet and be the best version of herself. 
If you feel like your family might be the perfect forever home for Maudie, please submit an adoption application for her today!! 
Please note that it will likely be at *least* a 3–4 week minimum before you hear back from us after submitting an adoption application.
We typically accept for new applications for a period of 7 days or until 20 applications have been received for any newly available dog. After that time period, the applications are sent on to the foster family for review and that usually takes from at *least* a few days to a week to sort through the applications, etc. Most of our dogs receive several applications so this process does take some time, especially on dogs who are more popular for one reason or another.
We do require phone interviews to be conducted between the foster family and potential adopters, vet reference checks and a home visit to be conducted for all potential adopters, if they are selected as the top choice applicant, which will also take time to complete. That being said, we do always let our applicants know if they are chosen or not.
IF you happen to not be chosen, please don't feel discouraged as, again, we usually get several applications for each dog, and sometimes it can be very difficult to choose just one adopter. In those cases, we usually offer to keep the applications for adoption on file for any future dogs that come into our rescue.
ALL adopters are required to come and pick up their adopted dogs in person from the dog's foster home (we do not ship any of our dogs). Please have road/driving transport plans in place to pick up an adopted dog before you apply! While we are not against adopters flying a foster dog in cabin on a commercial flight, please keep in mind that many are not good candidates for flying due to size and/or being a brachycephalic/short nosed breed.
If an adopter cannot keep one of our grads, for any reason at all, at ANY point in time, they *must* be willing and able to return their adopted dog to his/her original foster home, despite distance and any costs that would be required to do so.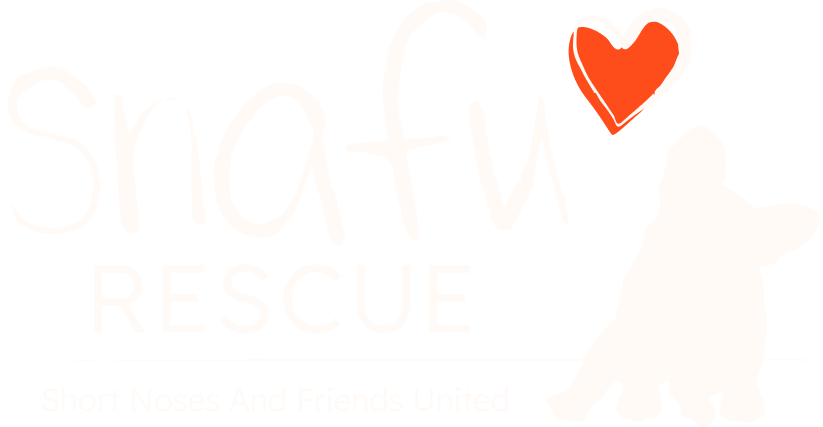 ​SNAFU Rescue is a 501(c)(3) tax deductible non-profit organization that rescues, rehabilitates, and rehomes all short-nosed breeds in need.
© Copyright 2023, SNAFU Rescue (Short Noses and Friends United Rescue). All Rights Reserved.