now accepting applications
Introducing, Janis!
Please carefully review the information below. If you feel like your family might be the perfect forever home for Janis, please submit an adoption application!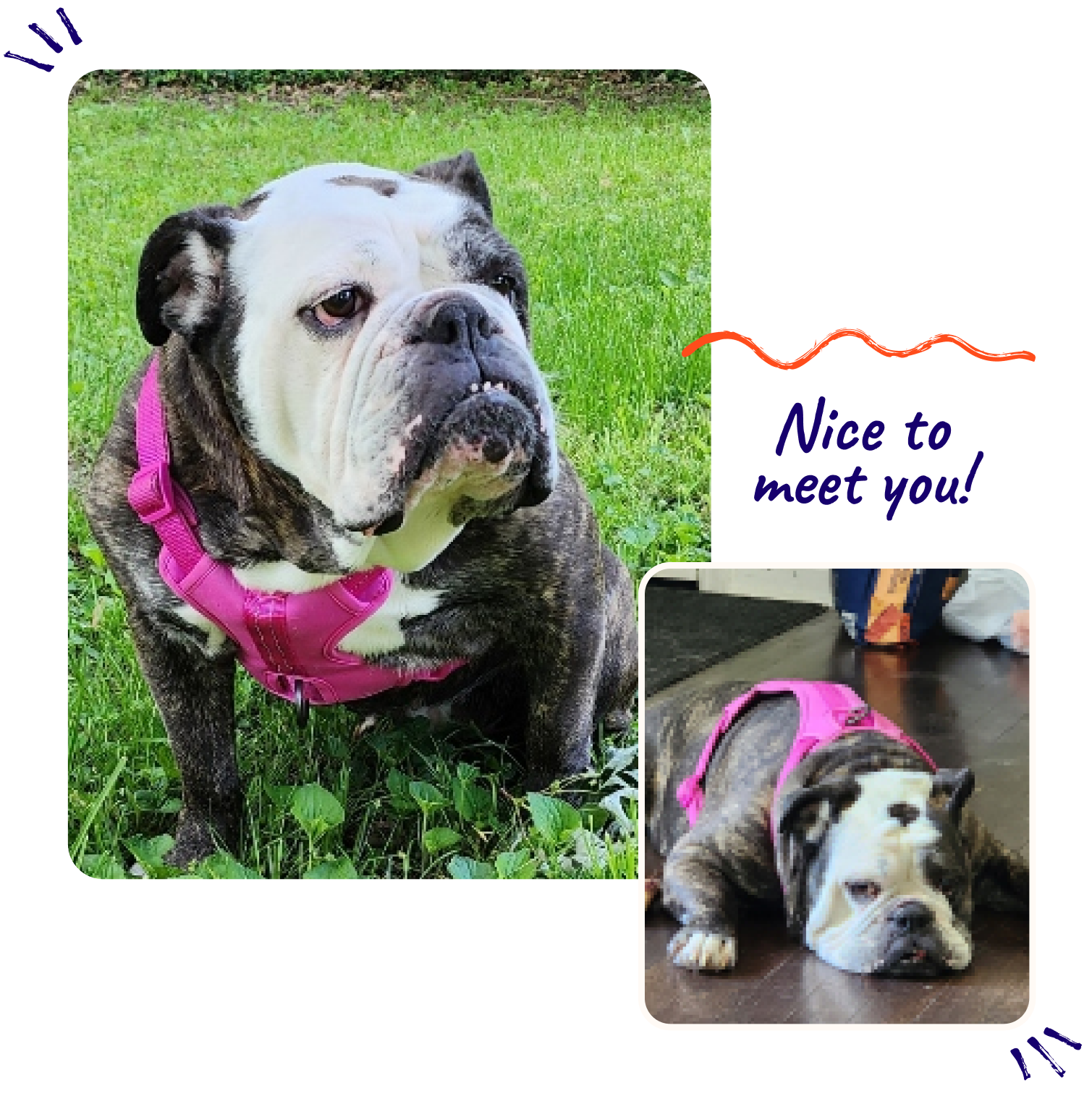 Age
7 years old [DOB: 11/07/2015]
Janis' Story
Janis came into SNAFU Rescue via a breeder release.  Her breeder dropped her at a local vet.  The veterinarian office contacted SNAFU to address her medical issues and find her a loving home to live the rest of her life as a cherished pet.
Janis is a typical lazy, stubborn Bulldog that has found some energy throughout the day.  Given her chill approach to life, it shouldn't be a surprise that she passes each day enjoying many Bulldog snoozes, following around her foster dad like it is her job, relaxing on her favorite spot on the floor and allowing them to provide unlimited belly rubs.  Janis truly is your typical bulldog "couch potato" as she would prefer to lounge around the house nestling into her favorite soft spots to nap.  When she is felling sparky, she will grab a hard chew toy to settle in on her plush bed to nibble on to pass some time.  After shadowing her foster family ALL around the home, you can find sweet Janis looking for some outside time.  She truly enjoys a good romp around the yard seeking out some pesky intruders.  Janis does have a prey drive and will chase after cats, birds, squirrels and rabbits.  She keeps watch of the yard to ensure it is free of all unwanted furry little guests! After the yard is deemed "safe", Janis will find a warm spot int he yard to sun her Bulldog buns.  She really relishes her time outdoors and it is often hard to get her to want to back indoors!  After some coaxing, Janis will aqueous and slowly walk through the doorway to grab a much needed nap.  After a pawfectly suited Bulldog snooze, you can find Janis engaging her human for a belly rub or an ear scratch!  She much prefers her humans and truly only cares about their love, affection and cuddles.  Janis really isn't too interested in the other dog in her foster home (albeit she has been known to engage is some gentle wrestling with him) as she is more interested in constant human interaction. Janis will show affection by leaning hard into her favorite person nudging them with her head to pet her!  She has however come to enjoy the company of her Bulldog friend and has cuddled on the couch for some TV time with them.  Janis does take time to warm up to other dogs and needs some patience when being introduced.   She was very stressed upon arrival into rescue (she has some very painful medical issues) and she nipped at the other dog in her home prior to her surgery.  Since recovering, Janis has not shown anymore of this type of behavior.  She is experiencing a big change and is in need of a firm leader, a patient and understanding family that will continue to introduce her to new things and experiences as she adjusts into pet life.  Janis will need someone to offer ger the space she requires as she acclimates into a new home.  Janis loves all humans!  Due to her size and overall reserved and unsure disposition we believe she would be best suited in a home with children 14 years or older and who are dog savvy.  She does well with dogs that are smaller, submissive, are more calm and do not challenge her alpha ways.  Therefore we feel she would do okay with a balanced, older, and reserved furry friend to provide her company or equally as happy as an only pet.  As with all of our dogs, slow introductions to other dogs and children is a must and she should always be supervised to make sure she and they are kept safe.
Janis is fully potty trained.  Her foster family happily reports she is accident free when her foster family is away from the home.  A consistent schedule/routine will help her potty training success in her adoptive home.  Janis is fully crate trained; she does very well in a dark room while spending time in her crate when her foster family happens to be away from the home.  For her safety, a similar arrangement is preferred when her humans are away from the home and/or when she is left unsupervised so she is safe and secure.  
Medically, Janis is in good health.  She has been spayed (she suffered from pyometra & Gastric Dilatation and Volvulus), updated on vaccinations/deworming, microchipped and heartworm tested.  She has been given the okay to adopt by our veterinarian!  Janis does seem to have those pesky Bulldog allergies.  She would greatly benefit from a daily allergy pill to keep them at bay.  
Janis would do best in a home with a family that appreciates her slower pace in life and one that allows this sweetheart a calm, comfy and loving environment.  A home with a fenced yard is an ABSOLUTE requirement for Janis due to her prey drive.  She is a great candidate for someone who works from home, has a stay-at-home parent or even wants to take her to the office!  Janis would be sure to greet all the office workers then sleep the day away as long as she has her human with her and a comfy bed to lay on.  Cannot take her to the office- that is okay!  She would sleep the day away in her safe space as long as someone could arrange a mid-day potty break for her. Janie spent many years without the medical attention she desperately needed.  All her medical issues have been addressed and she is a much happier Bulldog. Janis is just about the sweetest Bulldog you can meet (once her trust is earned) and one that thrives on human attention.  Janis is looking for a quiet home with a consistent routine that allows for extra love, attention and cuddles!  
If you feel like Janis just may be the perfect fit for your family, please submit an application for her today!  
Please note that it will likely be at *least* a 3–4 week minimum before you hear back from us after submitting an adoption application.
We typically accept for new applications for a period of 7 days or until 20 applications have been received for any newly available dog. After that time period, the applications are sent on to the foster family for review and that usually takes from at *least* a few days to a week to sort through the applications, etc. Most of our dogs receive several applications so this process does take some time, especially on dogs who are more popular for one reason or another.
We do require phone interviews to be conducted between the foster family and potential adopters, vet reference checks and a home visit to be conducted for all potential adopters, if they are selected as the top choice applicant, which will also take time to complete. That being said, we do always let our applicants know if they are chosen or not.
IF you happen to not be chosen, please don't feel discouraged as, again, we usually get several applications for each dog, and sometimes it can be very difficult to choose just one adopter. In those cases, we usually offer to keep the applications for adoption on file for any future dogs that come into our rescue.
ALL adopters are required to come and pick up their adopted dogs in person from the dog's foster home (we do not ship any of our dogs). Please have road/driving transport plans in place to pick up an adopted dog before you apply! While we are not against adopters flying a foster dog in cabin on a commercial flight, please keep in mind that many are not good candidates for flying due to size and/or being a brachycephalic/short nosed breed.
If an adopter cannot keep one of our grads, for any reason at all, at ANY point in time, they *must* be willing and able to return their adopted dog to his/her original foster home, despite distance and any costs that would be required to do so.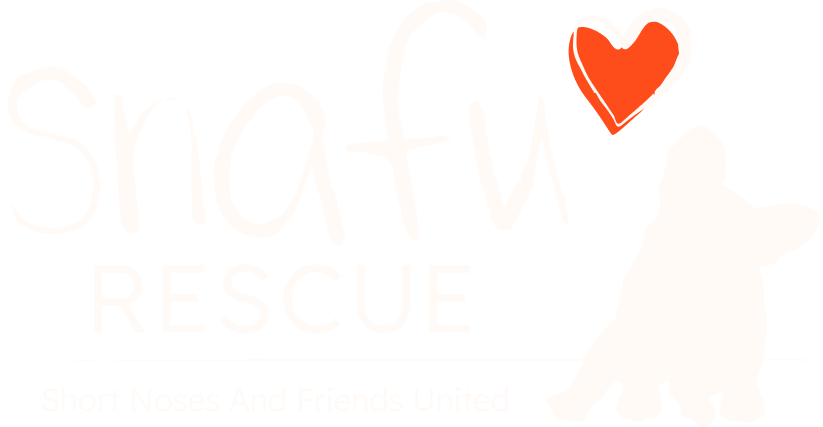 ​SNAFU Rescue is a 501(c)(3) tax deductible non-profit organization that rescues, rehabilitates, and rehomes all short-nosed breeds in need.
© Copyright 2023, SNAFU Rescue (Short Noses and Friends United Rescue). All Rights Reserved.