now accepting applications
Introducing, Bilbo!
Please carefully review the information below. If you feel like your family might be the perfect forever home for Bilbo, please submit an adoption application!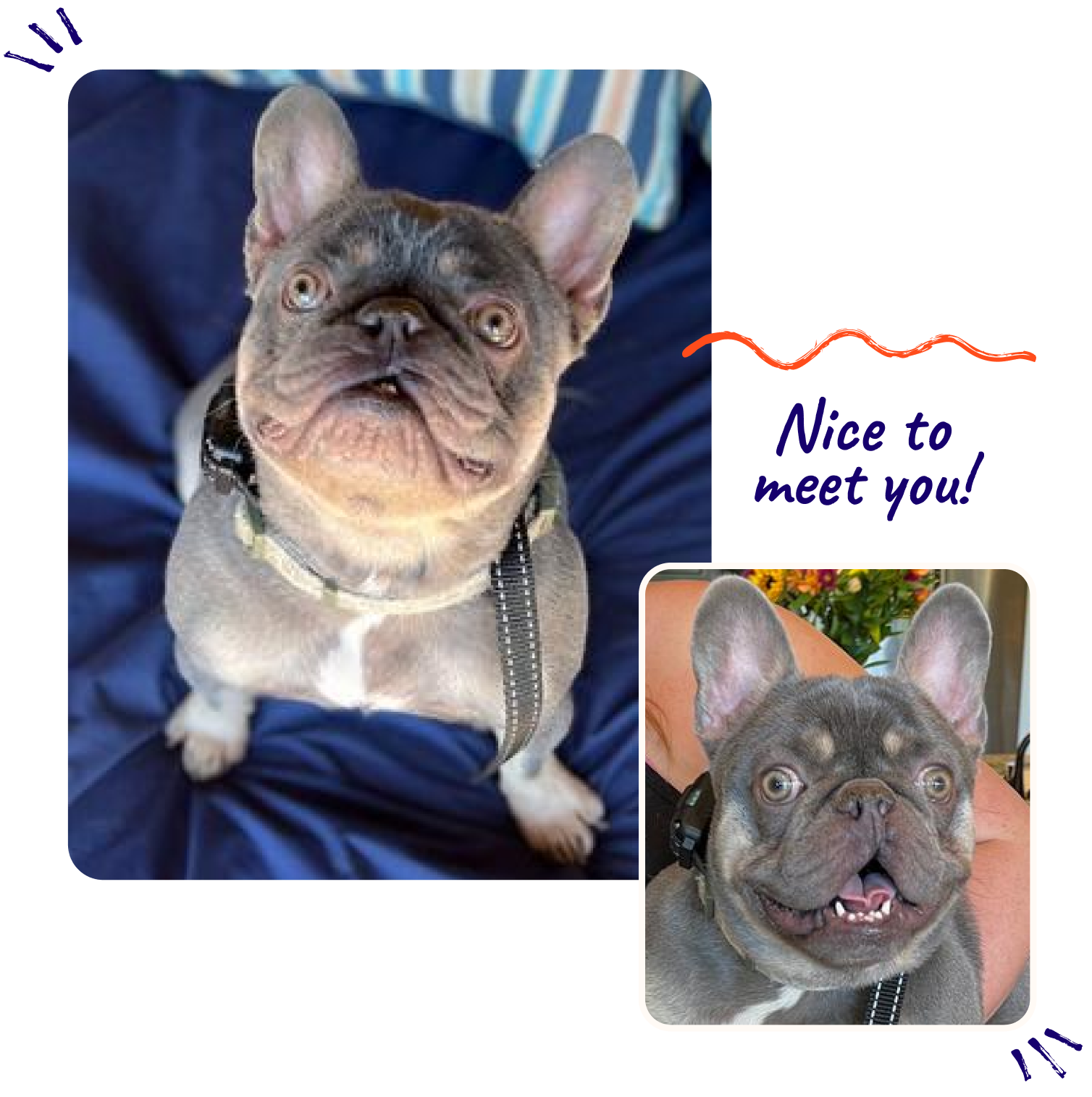 Age
2 year old [DOB: 06/05/2021]
Kids
Yes, 16 years or older, NO exceptions
Bilbo's Story
​Bilbo initially came into SNAFU Rescue when he was surrendered to a shelter due to some behavioral and (now treated) medical issues. Bilbo has a bite history and will require diligent, calm, firm and consistent leadership with his adoptive family.
Bilbo is a playful and active Frenchie boy! You can often find him hanging out on his dog bed with a good nylabone chew or deer antler, snuggling with his people or, in true Frenchie fashion, searching for a soft place to take a nap (as long as it's near his people). Bilbo does well when walking on a leash and gazes ahead making sure no uncertainties lie ahead. He can get uneasy/anxious and very nervous when in an unfamiliar situations and will seek reassurance and guidance from his leader. Bilbo looks to his human for comfort (and correction, if needed) when his insecurities get the best of him.
Bilbo wears an e-collar whenever he is out in the house with other dogs and when he goes out in public (walks, to the vet, etc). The e-collar has 3 levels (a beep, a vibrate, and a shock level). Typically a beep or vibrate correction with the collar will be more than sufficient for him in any situation where he may be resource guarding or acting out but a stronger correction may be needed occasionally, and a timeout in his kennel is sometimes necessary as well.
Bilbo is currently taking Prozac to help take the edge off of his insecurities and while it has helped him greatly, he still will require a firm and consistent leader in his adoptive home. We would highly recommend that he remain on Prozac for the remainder of his lifetime. While Bilbo has a lot of spirit, he also has a very chill side. He very much enjoys quiet time and naps, especially if he can be near his people and hang out with them. Bilbo will look for his humans to follow them all around the house and is very much a "shadow dog."
Bilbo loves activities that offer him enrichment (walks, nylabones/chew toys, etc). As they say, a tired dog is a happy dog, and that is very much true in Bilbo's case. Bilbo's insecurities can also get the best of him especially when it comes to sharing high valued items (chew bones, toys, food, etc.) and he will sometimes resource guard these items when in the company of other dogs. He will also resource guard his humans from other dogs as well, so must be closely watched if he is out and about to ensure this behavior is immediately corrected, if it were to occur. He currently lives with 4 other furry foster dog siblings and does have to be reminded occasionally that he is *not* the boss with 2 of the other dogs in the home. He seems to particularly like to resource guard with and/or "pick on" weaker dogs (blind dogs, handicapped dogs, etc) but will not typically challenge the other healthy/stronger dogs in the home, and does enjoy playing with them for a bout or two of wrestling/zoomies from time to time.
During breakfast and dinner times, he is fed inside of his kennel and this routine seems to work best for him in order to avoid conflict during feeding times. Typically he is okay to share attention as long as he gets a pat or two, too, but Bilbo does like to attempt to "block"/chase away other dogs from coming near his people from time to time, as well. Again, Bilbo will need a firm, consistent leadership in his adoptive home in order to help him continue to thrive, as he is currently in his foster home. He will need to learn to trust his new family members and proper dog manners would need to continue to be reinforced so that it is clear to him exactly what is expected of him in his adoptive home.
He is smart, food motivated and after proper slow introductions and being able to see that they are not a scary threat, Bilbo is usually willing to let his guard down around other stable, easy going, laid back dogs. His foster family believes he would be best either as an only dog in the home. As far as children, due to his bite history, and his anxiety with uncertain/high energy situations, he would require a home with calm kids who are dog-savvy, gentle, and 16 years or older. As with all of our dogs, we recommend slow introductions AND supervision around children when introducing a new dog in your home to make sure both the dog and the children are kept safe.
Bilbo is still working on potty training and, while he is making good progress, he is still not 100% reliable yet. His foster family does use a belly band for him when he is out and about in the home. As with all of our dogs, any adopter will need to be able to offer him a consistent schedule and be able and willing to continue working with him on his potty training. Bilbo is crate trained but will still have pee accidents in his crate from time to time, especially if he is not let outside *first* thing in the morning when his people wake up. Want to make a cup of coffee before letting the dog out in the morning? That will not work for Mr. Bilbo! He wants to go outside before any other activity takes place in the mornings. He also does best if his person goes outside with him into the yard or he will just go ahead and pee right by the door, if his people do not walk out with him. He sleeps quietly in his crate when his foster family happens to leave the home and at night. For his safety, we recommend a similar crating schedule is kept for him. 
Medically, Bilbo seems to be in good health! He has been neutered, updated on vaccinations/deworming, heartworm tested, microchipped and has been given the okay for adoption by our veterinarian! Bilbo does have some potential GI issues and suffers from allergies (both environmental and food). His allergies are successfully managed through regular baths and a special diet. He has been allergy tested and those results will be provided for his adoptive family. His ears will need to be monitored for ear infections due to allergies but, thankfully, he has not had significant issues with this as long as they are closely monitored.  His GI issues come in the form of loose stools, IF his food allergies are not properly managed. As long as a correct diet is maintained, typically he has few to no issues. He is currently eating a raw diet and will need to remain on a raw diet due to food allergies and to avoid GI upset and/or loose stools and/or diarrhea. We will be happy to discuss food options for him and offer guidance in that area.
Bilbo would do best in a home with a fenced-in yard due to his anxious nature, especially regarding strangers, both humans, and dogs (as opposed to a multiple floor apartment style dwelling with no yard). A home with privacy fencing would be ideal for him. Stairs are iffy for him (he does not have great confidence when going up and down stairs) but has been doing better with them with time. Due to this, and his anxious nature, we don't feel an apartment style home would work for him as he is in need of a quiet place to work on his insecurities. Bilbo is seeking a mature home, and a dedicated person/family that is willing to offer him a safe place to learn to trust and feel safe. Unfortunately, we don't feel  Bilbo would be the best candidate for "take your dog to work day" but that's okay! He will happily sleep the day away in his crate with a comfy blanket and a nice nylabone chew, as long as his people can arrange a mid-day potty break for him.
Ultimately, Bilbo is looking for his ride or die human that loves snuggling, hanging out watching a movie or two and one that can offer him the proper structure to flourish! Again — firm, consistent leadership and calm enrichment for his mind and body is a must for him. Be ready to be loved unconditionally as Bilbo has so much to offer!
Please note that it will likely be at *least* a 3–4 week minimum before you hear back from us after submitting an adoption application.
We typically accept for new applications for a period of 7 days or until 20 applications have been received for any newly available dog. After that time period, the applications are sent on to the foster family for review and that usually takes from at *least* a few days to a week to sort through the applications, etc. Most of our dogs receive several applications so this process does take some time, especially on dogs who are more popular for one reason or another.
We do require phone interviews to be conducted between the foster family and potential adopters, vet reference checks and a home visit to be conducted for all potential adopters, if they are selected as the top choice applicant, which will also take time to complete. That being said, we do always let our applicants know if they are chosen or not.
IF you happen to not be chosen, please don't feel discouraged as, again, we usually get several applications for each dog, and sometimes it can be very difficult to choose just one adopter. In those cases, we usually offer to keep the applications for adoption on file for any future dogs that come into our rescue.
ALL adopters are required to come and pick up their adopted dogs in person from the dog's foster home (we do not ship any of our dogs). Please have road/driving transport plans in place to pick up an adopted dog before you apply! While we are not against adopters flying a foster dog in cabin on a commercial flight, please keep in mind that many are not good candidates for flying due to size and/or being a brachycephalic/short nosed breed.
If an adopter cannot keep one of our grads, for any reason at all, at ANY point in time, they *must* be willing and able to return their adopted dog to his/her original foster home, despite distance and any costs that would be required to do so.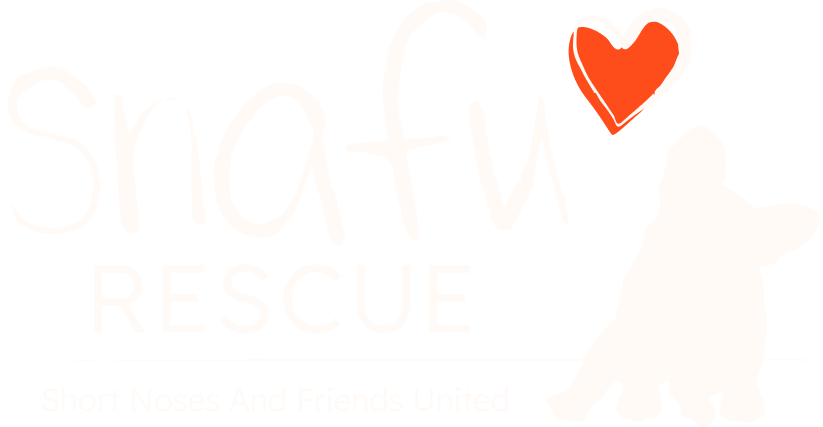 ​SNAFU Rescue is a 501(c)(3) tax deductible non-profit organization that rescues, rehabilitates, and rehomes all short-nosed breeds in need.
© Copyright 2023, SNAFU Rescue (Short Noses and Friends United Rescue). All Rights Reserved.