now accepting applications
Introducing, Beata!
Please carefully review the information below. If you feel like your family might be the perfect forever home for Beata, please submit an adoption application!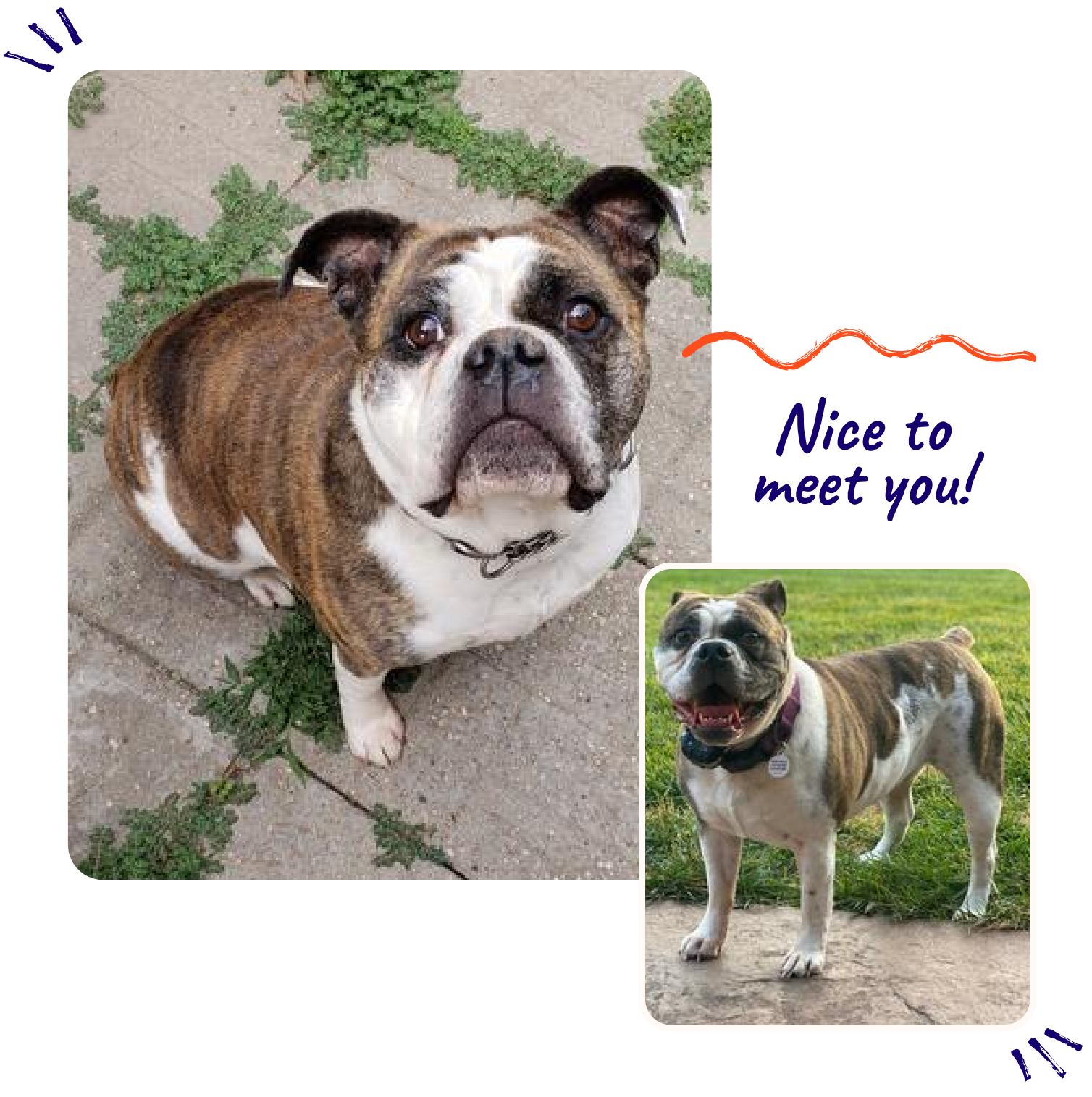 Age
5 years old [DOB: 11/13/2017]
Fenced Yard
Required, privacy fencing preferred
Beata's Story
Beata (also known as Bea) came into SNAFU Rescue via a shelter surrender. She was initially found as a stray and was surrendered to SNAFU Rescue. Bea was then adopted and was returned to the rescue as her family could no longer properly care for her personality needs and wanted her to be placed in a loving home to be trained, spoiled and loved!
Beata's activity level is that of a normal Bulldog. Her favorite pastimes include naps on a soft dog bed, going on long walks, chewing on nylabones (no plush/soft toys for her as she rips them up) and nibbling on her beloved bones. Bea is a power chewer therefore requires and prefers the toughest toys and bones you can find for her. She has been known to destroy any plush/soft toy in her sight as she is a strong girl! You can often find Bea requesting time outside as she loves to explore the fenced-in yard and also lounge in the sun. She will gallop all around with a big smile on her face! When Bea isn't burning off some energy outside, you can find her searching for a bone to settle in for a chew session. She truly is the happiest after a jaunt outside where she can grab some fresh air with her humans.
Beata is a good listener as she wants to please her humans. She is responsive to many commands including sit, down, shake and stay. She loves her treats and can be very motivated with them so additional training is a high possibility if her new home chooses. Bea came into rescue with some known behavioral issues. She is protective of her food and toys and resource guards them from other animals. She has never had any issues with this with her humans. Bea is an insecure dog and her foster family believes this is where her behavioral issues stem.
She currently takes 20mg of Prozac twice a day (once in the morning and once in the evening) to help her manage her anxiety with unfamiliar people/situations. She should remain on this medication for the remainder of her lifetime. She is a much happier, stable dog on it than off. Bea will become overly stressed in high energy environments and prefers a more relaxed environment. She needs firm leadership, and a consistent routine as this helps her confidence and with confidence comes trust. She wants to protect her humans and does show extreme stranger anxiety when someone unfamiliar to her visits her home. However, with the correct introduction she will warm up to a new friend quickly. Alternatively, she can be kenneled when someone unfamiliar to her visits the home and while she still barks, she does fine with that routine as well. 
We obviously don't know Bea's past due to her initially being found as a stray, but we do know she has some initial trust issues, as previously stated. Again, once she is able to gain trust she is a very loving dog and wants to be near her humans and enjoys affection and attention. A nice belly rub is one of her favorites!  Bea should never be allowed to be elevated – up on furniture, the bed, etc. Again, she is an insecure dog and putting dogs in an elevated position gives them a sense of dominance. Her family members should always be the pack leaders with firm, consistent, rules and boundaries set forth and she should never need to be put in that position. When Bea is feeling insecure she acts out in the form of loud barking and lunging toward those unfamiliar situations and around unfamiliar people.
She must always be leashed when outside of her home environment and she currently wears a martingale collar and a prong collar when on public outings to ensure her safety and anyone who may be around her. She is extremely intelligent and responsive to her leader and does well with firm leadership and positive reinforcement. Again, she does require a firm, confident, consistent leader. Her foster family believes she would be best in a home with calm, dog-savvy, gentle, children 14 years or older. Bea would absolutely LOVE to be the only dog in her forever home and be the center of her people's hearts. As with all of our dogs, we recommend slow introductions (this is 100% required for Bea) to new things AND supervision around children when introducing a new dog in your home to make sure both she and they are kept safe.
Beata is 100% potty trained! She has never had an accident in her foster home. As with all of our dogs, any adopter will need to be able to offer her a consistent schedule to continue her potty training success. Bea is 100% crate trained and has not had any accidents in her crate. She is okay to be trusted in a gated, secure room in her foster home as she is a big girl and enjoys the extra room to stretch out! Otherwise she does just fine in a size appropriate kennel as well. She does sleep quietly in her room and/or kennel when her foster family happens to leave the home and during the night. Bea loves the softer things in life and prefers the comfort of being surrounded by her things and have the ability to cuddle up on a soft blanket, or even better, her very own dog bed! For her safety, we recommend a similar area and sleeping schedule is kept for her.
Medically, Bea seems to be in great health and currently has no known health issues. Again, she currently takes 20mg of Prozac twice a day (once in the morning and once in the evening) to help her manage her anxiety with unfamiliar people/situations.  She should remain on this medication for the remainder of her lifetime. She is a much happier, stable dog on it than off. She has been spayed, updated on vaccinations/dewormings, heartworm tested, microchipped and has been given a clean bill of health by our veterinarian! 
Beata would do best in a home with a large fenced-in yard as she loves to be outside with her people and explore. She has a voice, especially when strangers come to visit her home, so a home with shared walls (apartments and duplexes) would not ideal for her. Bea does great with stairs and enjoys the exercise that comes with them! She is a young, active dog that has stranger anxiety so a home in a quieter neighborhood would be best for her as she acclimates to her new surroundings. We also think she would thrive in a home that has an active lifestyle that would be able to take her on daily walks and ensure she gets plenty of exercise and stimulation. A tired dog is a happy dog! Due to her stranger anxiety issues, we don't feel that Bea would be a good candidate to go to the office with her new family. She will happily sleep the day away in her room and/or kennel with a comfy bed or blanket as long as her people can arrange a mid-day potty break for her.
Bea absolutely requires a family that can offer her patience, training experience, and firm, consistent leadership in a low stress environment. She is very willing to be trained and performs well with consistent positive reinforcement and leadership. If you feel like your family might be the perfect forever home for Beata, please submit an adoption application for her today!! 
Please note that it will likely be at *least* a 3–4 week minimum before you hear back from us after submitting an adoption application.
We typically accept for new applications for a period of 7 days or until 20 applications have been received for any newly available dog. After that time period, the applications are sent on to the foster family for review and that usually takes from at *least* a few days to a week to sort through the applications, etc. Most of our dogs receive several applications so this process does take some time, especially on dogs who are more popular for one reason or another.
We do require phone interviews to be conducted between the foster family and potential adopters, vet reference checks and a home visit to be conducted for all potential adopters, if they are selected as the top choice applicant, which will also take time to complete. That being said, we do always let our applicants know if they are chosen or not.
IF you happen to not be chosen, please don't feel discouraged as, again, we usually get several applications for each dog, and sometimes it can be very difficult to choose just one adopter. In those cases, we usually offer to keep the applications for adoption on file for any future dogs that come into our rescue.
ALL adopters are required to come and pick up their adopted dogs in person from the dog's foster home (we do not ship any of our dogs). Please have road/driving transport plans in place to pick up an adopted dog before you apply! While we are not against adopters flying a foster dog in cabin on a commercial flight, please keep in mind that many are not good candidates for flying due to size and/or being a brachycephalic/short nosed breed.
If an adopter cannot keep one of our grads, for any reason at all, at ANY point in time, they *must* be willing and able to return their adopted dog to his/her original foster home, despite distance and any costs that would be required to do so.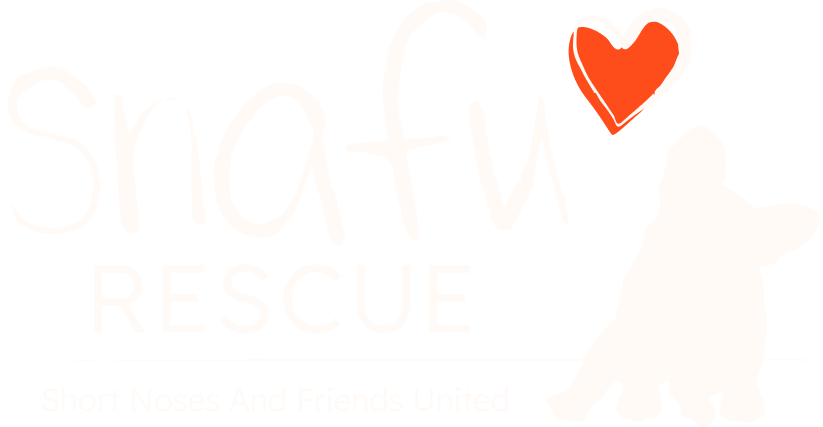 ​SNAFU Rescue is a 501(c)(3) tax deductible non-profit organization that rescues, rehabilitates, and rehomes all short-nosed breeds in need.
© Copyright 2023, SNAFU Rescue (Short Noses and Friends United Rescue). All Rights Reserved.