now accepting applications
Introducing, Portabella!
Please carefully review the information below. If you feel like your family might be the perfect forever home for Portabella, please submit an adoption application!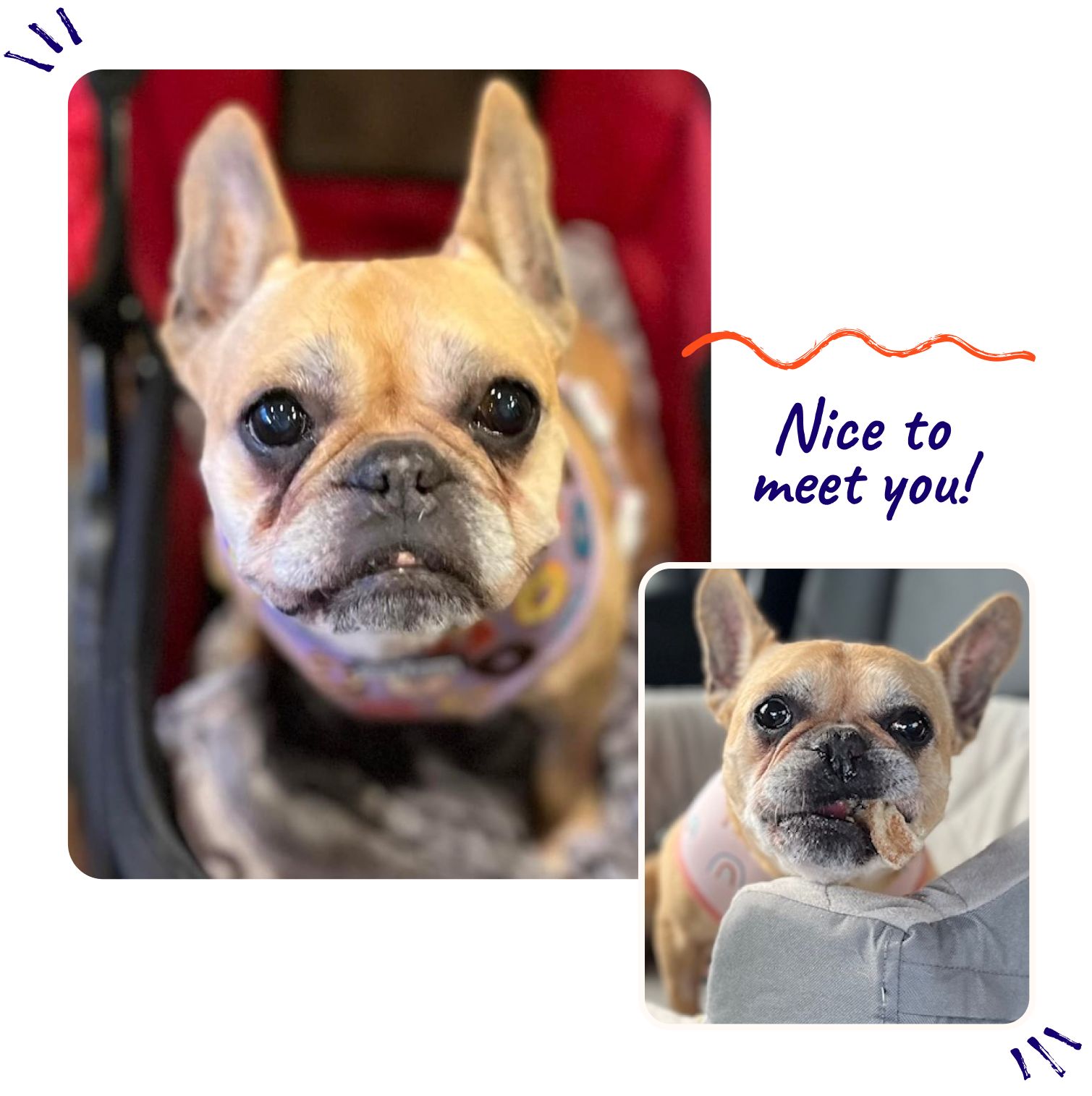 Age
11 years old [DOB: 5/22/2012]
Portabella's Story
Portabella arrived in SNAFU's care when she was found wandering the streets and very underweight. She was picked up by Animal Control and subsequently released to SNAFU Rescue. 
Portabella is a relaxed, calm, lazy little Frenchie girl who loves just hanging out and being at the feet of her people. She is a true velcro frenchie that wants to be able to see you, hear you, and be near you as she finds comfort in being surrounded by her people. Bella (as she is affectionately called) likes to be in the middle of all the happenings in her foster home as long as her people are involved! Major case of FOMO. Bella is a super adorable sassy senior!  Although Bella doesn't prefer the company of other dogs, she does LOVE her humans and wants to be near them at all times, whether that's riding shotgun in the car, watching a movie with her humans, or sleeping in their bed. Have we mentioned how much Bella loves car rides? Bella does have bursts of energy here and there and will engage her foster mom in a game of chase, but for the most part, Bella is content to relax and take naps throughout the day. Bella also loves chin scratches and would love an endless supply of them. She does sleep in her human's bed and is perfectly content sleeping quietly throughout the night at the foot of the bed.
Don't tell Bella, but her gait sometimes gives her age away. Although she walks a little wonky, she has had several rounds of acupuncture to see if we could improve her back leg strength.  X-rays have not revealed any discernible issue with her spine. For whatever reason, her brain is not quite sending the correct message to the nerves in her back legs.  She does not experience any pain but she is semi-incontinent and wears a fashionable, washable diaper. She will urinate when taken outside but she doesn't seem to be aware when she has to defecate. This hasn't been a problem for her foster family as she cleans up easily and carries on with her day. She is most certainly one for snuggling as she much prefers to spend her nap time at your feet, behind your feet, in front of your feet, or her stroller. Portabella has some interest in toys when feeling spunky and grabs some enjoyment by nibbling on a yummy soft benebone.  After a chew session, you can find Bella searching for a comfy place for nap time.
Portabella is experiencing a big change and needs a patient and understanding family that will gently guide her as to what is expected of her in her adoptive home. She has been through a lot in her life and deserves some extra patience and understanding as she acclimates yet to another home.  Bella has been introduced to small children and she immediately fell head-over-paws for them! Due to Bella's sweet, kind, and gentle disposition, we feel she would do best with respectful, dog-savvy children of any age. She should be supervised when she is around children to make sure both she and they are kept safe. As with all of our dogs, slow introductions to other dogs in the household are a must. Due to her sassy senior ways, Bella does NOT get along with other dogs and must be an only pet (this is not optional).
As mentioned, she can potty outside but is uncertain when she has to defecate therefore she wears a diaper.  Bella can suffer from separation anxiety and will bark for the first 5-10 minutes when crated. She does however settle down.  Bella is currently given a free run of the home and this has worked out well for her as she has not gotten into any trouble. 
Medically, Portabella seems to be in okay health. She has been spayed, had a dental with extractions, her nares widened, her palate shortened, updated on vaccinations/dewormings, heartworm tested, microchipped, and has been given the okay to adopt by our veterinarian. Bella suffers from those pesky Frenchie allergies and responds well to daily allergy meds.  Like many Frenchies, Bella also has some food allergies, specifically turkey, and has adjusted well to a food change and has gained the appropriate amount of weight and is doing well.
Portabella would do best in any type of home that allows her to be the center of attention. A single-family home or a multi-level apartment would be just fine if there is an adjacent fenced-in area (to avoid any interaction with other animals). Bella does okay with a small number of stairs, so a home with a few would be okay for her.  She would be very happy and do her best by spending her retirement years with a quiet family that spends time at home as she really craves to be around her people at all times. Given her calm and sweet nature, we also think she'd love to go work with her new family if they wanted to take her with them to their quiet pet-free office. If her people are not able to take her to work with them, no problem at all – she would much rather have a work-from-home or stay-at-home family member to watch all day long. Portabella had a bit of a rough start to life and deserves to be spoiled with unconditional love and patience! She is such a sweetheart who needs help learning the ways of pet life. She will forever be a loyal companion.
So, if you're a homebody, who prefers a nice night in with a pup by your side, Bella might be your perfect match! Bella's ideal home is with a person or people who adore her and shower her with the gift of their company and time for the rest of her life. Her biggest and one of her only pleasures in life is to be with her person/people.  Her ideal home is where she has lots of time with her person/people and confidence and trust that she will be cherished and loved for the rest of her life. She gives lovely kisses and hops around and plays with you in spurts. She loves to grab a toy and have you chase her. But most importantly, she just wants to be with her people.
Portabella is ready for the happily-ever-after she deserves!   Please fill out an application to adopt and tell us why you and Bella would be the perfect match.
Please note that it will likely be at *least* a 3–4 week minimum before you hear back from us after submitting an adoption application.
We typically accept for new applications for a period of 7 days or until 20 applications have been received for any newly available dog. After that time period, the applications are sent on to the foster family for review and that usually takes from at *least* a few days to a week to sort through the applications, etc. Most of our dogs receive several applications so this process does take some time, especially on dogs who are more popular for one reason or another.
We do require phone interviews to be conducted between the foster family and potential adopters, vet reference checks and a home visit to be conducted for all potential adopters, if they are selected as the top choice applicant, which will also take time to complete. That being said, we do always let our applicants know if they are chosen or not.
IF you happen to not be chosen, please don't feel discouraged as, again, we usually get several applications for each dog, and sometimes it can be very difficult to choose just one adopter. In those cases, we usually offer to keep the applications for adoption on file for any future dogs that come into our rescue.
ALL adopters are required to come and pick up their adopted dogs in person from the dog's foster home (we do not ship any of our dogs). Please have road/driving transport plans in place to pick up an adopted dog before you apply! While we are not against adopters flying a foster dog in cabin on a commercial flight, please keep in mind that many are not good candidates for flying due to size and/or being a brachycephalic/short nosed breed.
If an adopter cannot keep one of our grads, for any reason at all, at ANY point in time, they *must* be willing and able to return their adopted dog to his/her original foster home, despite distance and any costs that would be required to do so.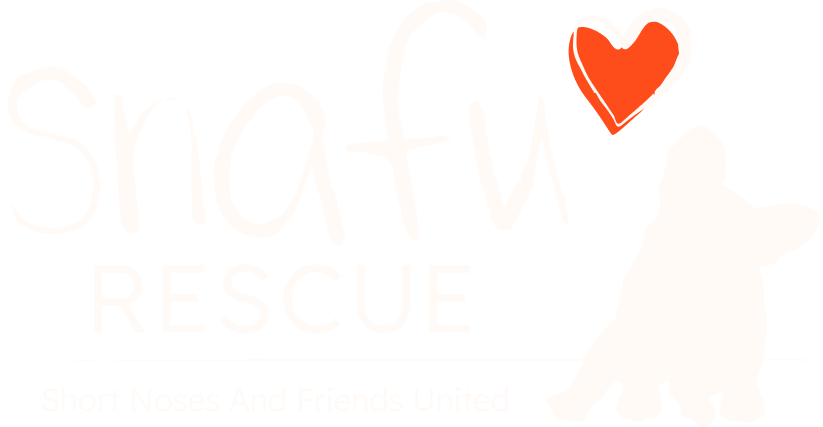 ​SNAFU Rescue is a 501(c)(3) tax deductible non-profit organization that rescues, rehabilitates, and rehomes all short-nosed breeds in need.
© Copyright 2023, SNAFU Rescue (Short Noses and Friends United Rescue). All Rights Reserved.