now accepting applications
Introducing, Obie!
Please carefully review the information below. If you feel like your family might be the perfect forever home for Obie, please submit an adoption application!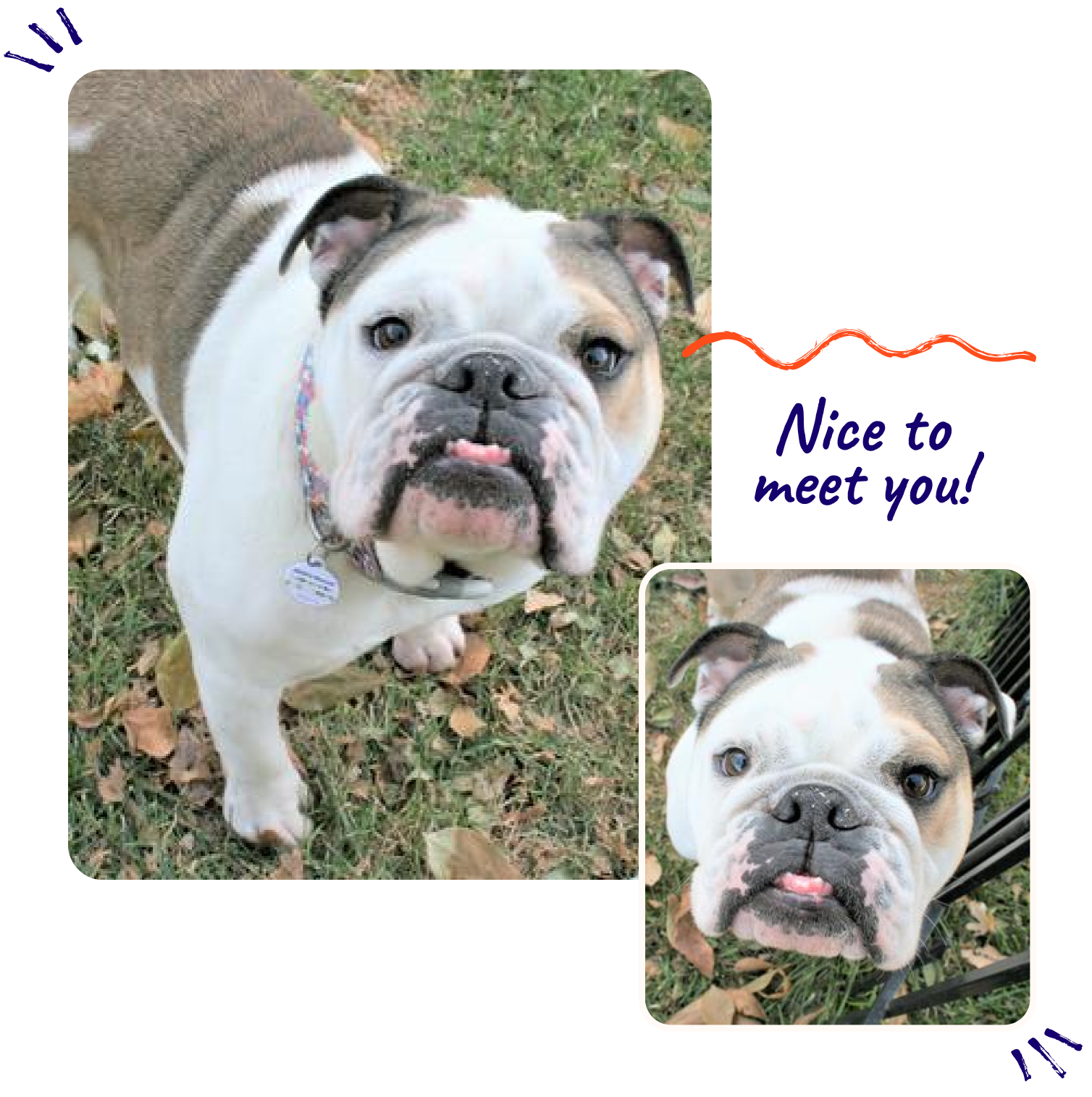 Age
6 years old [DOB: 06/05/2017]
Kids
16 years and older, no exceptions!
Dogs
Yes, easy going, non-confrontational dogs only
Fenced Yard
Required, privacy fencing preferred
Obie's Story
Obie was surrendered to SNAFU Rescue because his family was going through a divorce and were not able to continue caring for him at that time. Obie has a bite history and will require diligent, calm, firm and consistent leadership with his adoptive family.
Despite his quirks, Obie is a great dog who is happy, loving, and playful. Of course, he is a Bulldog so he also enjoys lounging and being lazy too! Obie's foster home reports he is very good boy the majority of the time. Obie loves attention from his trusted humans and enjoys playing with his beloved Jollyballs when he is in a playful mood. His body language must continuously be watched closely as he can be sensitive about certain touches and/or situations that make him feel insecure and unsure. When he plays (and while he doesn't mean it in an aggressive way when he is playing) he does sound a little ferocious and loves to growl quite loudly while he (literally) prances around and tosses his ball around the room. He has an adorable little prance that he does when he is happy and/or excited. For him, "a tired dog is a happy dog" would likely be his best course of action for success in his adoptive home.
When he isn't playing, he is content to lay on his dog bed next to the couch and suckle on a stuffed toy and snooze. He is not allowed up on furniture in his foster home and should never be allowed to be in an elevated position (up on a couch, bed, chair, ottoman, etc.). Obie is likely not a dog that one will be able to snuggle on the couch or in bed with. However, he is just as happy being near his people, getting head scratches and hanging out with them. He will occasionally resource guard his ball a bit around other dogs if they are attempting to steal it away but overall plays "keep away" pretty well with the other dogs in his foster home for the most part. They are always monitored to ensure one isn't stealing the others toys and are being respectful of each other during playtime.
Obie doesn't mind the company of other dogs and playing with them from time to time, he does best with easy going dogs who will not try to bully him or start fights with him. He typically does not ever start a fight, but he *will* retaliate and stand up for himself if another dog tries to pick on him and/or bully him. Obie does have aggressive outbursts from time to time and those are likely linked to his neurological issue that he has had since puppyhood. He was attacked by another dog and shaken when he was very young so while he gets around just fine and can walk and run just like any other normal dog, he does walk slightly off kilter with a sort of "swagger." His "swagger" is sometimes more prominent than other times, but it is especially noticeable when he is upset and/or his excitement level is too high.
Obie is ultimately an insecure dog that needs to find a home that is quiet and easy going with a family that will provide calm, firm, and consistent leadership for him. He absolutely needs a family who is very dog experienced, can be diligent and consistent in paying attention to and reading his body language and who is able and willing to deal with any issues as they arise. He does best with calm, firm and consistent leadership because he can then trust and rely on his people to provide him with a safe and secure environment. It did take Obie time to learn to trust his foster family and, initially, he was quite leery and standoffish with them. This should also be expected in his adoptive home until he has been given time to be able to build a relationship with his new family members and has learned that he can trust them.
Obie sometimes zones out and "sees red" and displays aggression toward the humans in his home when something occurs that upsets him, most typically when he is asked to do something he does not want to do or if something occurs that makes him feel insecure. Obie has bitten and has drawn blood in the past. It should be noted that if he is able to make contact, he bites with a determined bite each and every time. After he calms down a bit, he does seem to have learned his aggressive behaviors are not acceptable in his current foster home and he typically will put himself in a time out in his kennel as his foster family has trained him to do. If he doesn't start heading toward his kennel on his own, his foster family will firmly tell him to "go to bed" (and point toward his kennel) in which he will then typically go to his kennel. He should never be given additional attention in these situations and should be largely ignored while being kenneled in a separate area (with the kennel door secured) for a time out/cool off period of at *least* 30–45 mins.
While he does not enjoy it, Obie is muzzled when he is given a bath and/or his ears are cleaned and/or his nails are trimmed. Obie is very food/treat motivated and will allow his muzzle to be put on him with the bribe of yummy treats. When placing his muzzle, diligence and caution must be taken. Any type of grooming interaction that makes him uncomfortable and insecure feeling (which, to date, we have experienced is all of them), he will begin displaying aggressive tendencies. The muzzle will protect his people so that he can have necessary care routines accomplished without the danger of being bitten. Again, if he is given the opportunity, he WILL bite when he is feeling insecure, scared or uncomfortable if precautions are not taken in advance to avoid such instances.
Obie is also always fed in his kennel to avoid food aggression issues. He is asked to sit and and wait calmly in his kennel and then his food can be placed inside of his kennel without issue. His food bowl is not removed from his kennel until he is out of his kennel. Again, he MUST have a calm, firm and consistent leadership in his adoptive home, just as he does with his foster family. With calm, firm and consistent leadership he seems to do very well and his outbursts are only occasional (and now that they know him well, can usually be expected and predicted) with with his foster family. Due to his bite history, Obie will not be able to be adopted to any home with children under the age of 16 years old.
Obie is 100% house trained. He has not had any potty accidents since coming to his foster family's home. As with any dog, a regular and consistent schedule will help with continuing his potty training success in his new home. He is also crate trained and will happily go into his crate for a yummy treat. For his safety, we recommend that he keep a similar crating schedule when his humans are away from the home and/or he is left unsupervised so he is safe and secure. Obie can also be a little leery around strangers and people he is not comfortable with and/or does not trust. He has bitten strangers in his former home when they have reached down to pet him. His foster family typically kennels him with a large nylabone or sturdy chew toy to occupy him when visitors come to the house to ensure their safety and he seems to be just fine with that routine. Again, this routine would be very strongly encouraged in his adoptive home to ensure that everyone is kept safe when visitors come into the home.
Medically, Obie is in good health. He is on a daily joint supplement to help with his joint preservation as he ages. Obie came into the rescue very, *very* obese and his front shoulders seemed more painful from the extra weight, which was reflected in his walking swagger. It is absolutely imperative to his quality of life that his adoptive family monitor his weight very closely. He needs to remain on the thinner side (needs to have a visible waist!) and his family must not allow him to become overweight again. His foster home uses Dogzymes Phyto Flex fpr his joint supplement, which can most easily be found on smile.amazon.com and/or chewy.com. Obie is neutered, has been HW tested, updated on vaccinations/dewormings, is microchipped, and has been given the all clear for adoption by our veterinarian!
Obie would do best in a home with a securely fenced yard. Privacy fencing would be ideal as he is leery of strangers and has bitten strangers in the past. Obie will need a calm and easy going home with no young children under the age of 16 years old present. He can manage stairs but due to his swagger, he would probably do best in a home with fewer stairs that he would need to manage on a daily basis. Obie enjoys being outside exploring the backyard and, when the weather is nice, he does enjoy lounging out in the yard sunning himself. Obie would likely not be a good candidate to take to work due to his insecurities around new people and his bite history with strangers. However, he's completely happy sleeping the day away at home as long as he has a soft blanket to snuggle in and a large nylabone or two to chew on to keep him occupied between naps. He would do best if his people can arrange a mid day potty break for him if they are away from the home for more than 6 hours at a time.
If you feel like your family might be the perfect forever home for Obie please fill out an adoption application for him today!
Please note that it will likely be at *least* a 3–4 week minimum before you hear back from us after submitting an adoption application.
We typically accept for new applications for a period of 7 days or until 20 applications have been received for any newly available dog. After that time period, the applications are sent on to the foster family for review and that usually takes from at *least* a few days to a week to sort through the applications, etc. Most of our dogs receive several applications so this process does take some time, especially on dogs who are more popular for one reason or another.
We do require phone interviews to be conducted between the foster family and potential adopters, vet reference checks and a home visit to be conducted for all potential adopters, if they are selected as the top choice applicant, which will also take time to complete. That being said, we do always let our applicants know if they are chosen or not.
IF you happen to not be chosen, please don't feel discouraged as, again, we usually get several applications for each dog, and sometimes it can be very difficult to choose just one adopter. In those cases, we usually offer to keep the applications for adoption on file for any future dogs that come into our rescue.
ALL adopters are required to come and pick up their adopted dogs in person from the dog's foster home (we do not ship any of our dogs). Please have road/driving transport plans in place to pick up an adopted dog before you apply! While we are not against adopters flying a foster dog in cabin on a commercial flight, please keep in mind that many are not good candidates for flying due to size and/or being a brachycephalic/short nosed breed.
If an adopter cannot keep one of our grads, for any reason at all, at ANY point in time, they *must* be willing and able to return their adopted dog to his/her original foster home, despite distance and any costs that would be required to do so.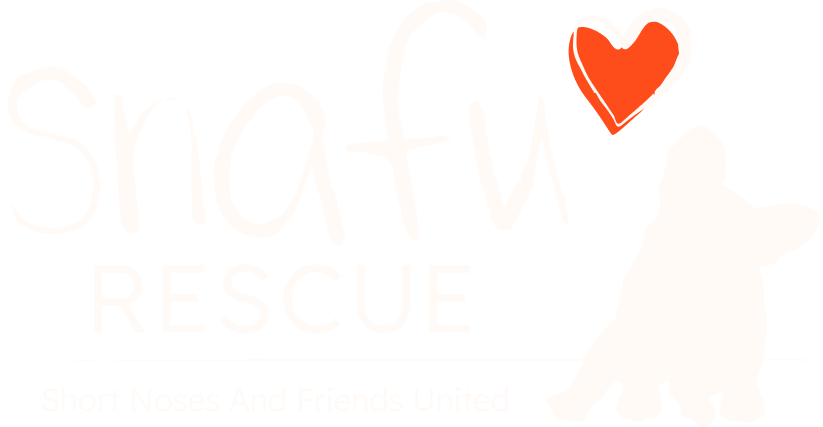 ​SNAFU Rescue is a 501(c)(3) tax deductible non-profit organization that rescues, rehabilitates, and rehomes all short-nosed breeds in need.
© Copyright 2023, SNAFU Rescue (Short Noses and Friends United Rescue). All Rights Reserved.